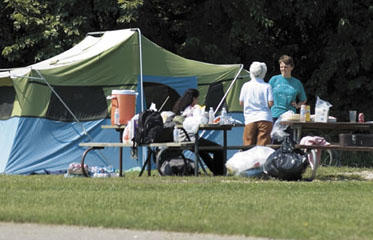 If you're making plans for next year's state park fun, you can reserve your favorite campsite or cabin up to a year in advance, beginning at 12:01 a.m., Dec. 15. You can also purchase your 2013 permits and licenses beginning Friday, December 14, 2012, and all issuances will be valid through the rest of 2012 and all of 2013.
Camping and cabin reservations guarantee the holder their spot will be open and ready when they arrive at the park. All Kansas Department of Wildlife, Parks and Tourism's (KDWPT) 121 cabins can be reserved year-round. About half of each individual park's sites may be reserved for the camping season which is April 1-Sept. 30, 2013.
It's never been easier to reserve a cabin or campsite. Last spring, KDWPT unveiled its Outdoor Recreation Management System (ORMS), which provides reservation services and much more.
In addition to allowing customers to make reservations from the comfort of home, photos of each campsite and whether it's available will be hosted online. In most cases, ORMS will save park users money through reduced service fees and more efficient management. The system also will allow staff to mark sites with problems — such as broken hydrants or electrical issues — until these issues can be fixed. ORMS data will show which sites are used the most, making management planning more efficient. ORMS will allow park staff to look within the system to see what sites are full and who is on that site, making emergency notifications much faster.
For those who still prefer using a phone, park staff can use ORMS to help callers with reservations.
Payment in full is required at the time a reservation is made. Reserving a cabin requires a non-refundable $14 reservation fee. Reserving a campsite requires a non-refundable $3 reservation fee per campsite.
And remember the $15 Kansas State Parks Passport annual vehicle permit will be available during your vehicle registration process in 2013. It saves money and is convenient. Regular annual state parks vehicle permits for $25 are still available at KDWPT offices, and daily vehicle entrance permits are $5. Annual vehicle permits for seniors and persons with disabilities are still available through department offices for $13.75.
Image courtesy Kansas Department of Wildlife, Parks and Tourism