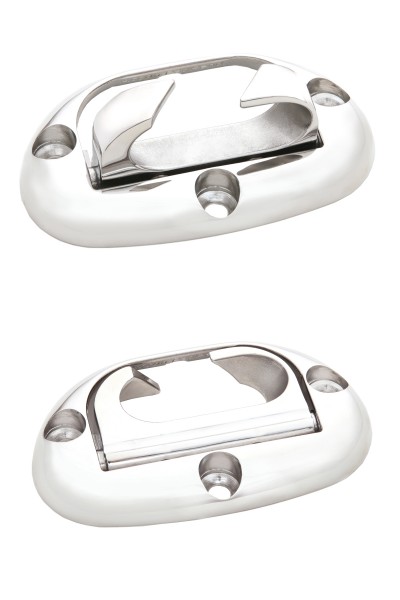 Deck space is valuable and should be clear of any hazards. Accon Marine's Surface-Mount Chocks help keep the area clutter-free by enabling users to fold them down and out of the way when not in use. Ultra-convenient, the chocks pull up when owners are ready to use them.
Constructed of 316 marine-grade stainless steel, these stylish chocks are built to last. The sleek Surface-Mount Chocks are available in 4.5″ and 6″ models.
Simple to install, no cut-out is needed. Mounting to the surface only requires owners to drill three holes for each chock and secure in place with screws.
A set of Accon Marine's 4.5″ Surface-Mount Chocks retails for $129.45, while the 6″ set costs $197.89. Accon also offers pull-up chocks that are mounted completely flush with the deck.
For more than 30 years, Accon Marine has been associated with superior quality precision metalwork. The company manufactures innovative flush-mounted deck hardware, Pop-Up cleats, lifting cleats and navigation lights.
Image courtesy Martin Flory Group/Accon Marine