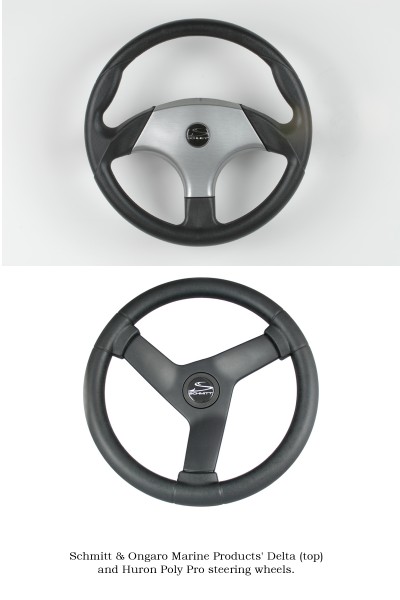 The choice of a steering wheel, one of the most handled parts of a boat, is an important one for owners. For those who want to replace a wheel or upgrade to console steering, Schmitt & Ongaro Marine Products' Poly Pro wheels offer superior quality at a great price.
Poly Pro steering wheels are intended for jon boats up to craft measuring 40′, and fit on a 3/4″ tapered shaft. Measuring 13-1/2″ in diameter, they leave ample finger clearance, even in a small console.
Two models, the Delta and the Huron, feature a three-spoke design appropriate for mechanical and hydraulic steering systems.  Both are available in several popular combinations with a choice of either hard plastic or soft touch vinyl grip. Boatbuilders can find an expanded line of colors with quantity orders.
The Schmitt & Ongaro name assures customers of strict quality control standards, with each wheel tested for strength and dependability during its design and development phase. Poly Pro wheels are NMMA-type certified, and backed with a two-year warranty. Suggested retail prices for the Poly Pro line start at $42.
Image courtesy Martin Flory Group/Schmitt & Ongaro Marine Products