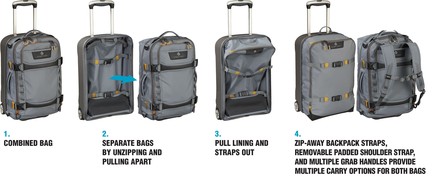 Morphing from the unexpected to the extraordinary, Eagle Creek has achieved the impossible: Ultra-durable, ultra-versatile, ultra-light: A hybrid polycarbonate upright that morphs into two full-sized travel bags.
Need another bag? Okay! Zip off the front conversion bag, use the "Morphus technology" to pull out the full size Bi-Tech shell that lives inside and now serves as a second ultra-durable full-size bag. Wheel this new full size option and throw the zip-off on your back. Each bag is fully featured and is seriously like nothing you (or we) have ever seen.
What? You want more? Okay! The patent pending Morphus isn't just multiple bags in one, but there's a different way to carry for each day of the week, multiple dedicated electronics features, interior organization and built-in security.
The Morphus features unique design innovations like an über lightweight 3-ply polycarbonate back combined with a Bi-Tech front, in addition to the ingenious new multiple carry options. We counted 6 conventional options, 43 total (somewhat unconventional) options. Once again, Eagle Creek is redefining what customers should expect from adventure travel gear.
The Morphus features Eagle Creek's legendary No Matter What Warranty.  No matter what happens to your bag (even airline damage), Eagle Creek will repair or replace it.
The new Eagle Creek Morphus convertible bags are available at retail 7/1/13.
Morphus 22 (EC-20438) MSRP $395
Capacity: 2925 cu in; Weight 7 lbs, 14 oz, size 14 x 22 x 9 in
Capacity Gear Bag: 2925 cu in; Weight: 3 lbs, 2 oz; Size: 14 x 22 x 9 in
Capacity Wheeled bag: 2875 cu in; Weight: 4 lbs, 12 oz; Size: 14 x 22 x 9 in
Morphus 30 (EC-20439) MSRP $470
Capacity: 5675 cu in; Weight 9 lbs, 11 oz, size 15 x 30 x 10 in
Capacity Gear Bag: 5675 cu in; Weight: 3 lbs, 8 oz; Size: 15 x 30 x 10 in
Capacity Wheeled bag: 5550 cu in; Weight: 6 lbs, 3 oz; Size: 15 x 30 x 11 in
Zip-Off Gear Bag Features:
Multiple carry options include Zip-away backpack straps, removable padded shoulder strap, and multiple grab handles
Zip-away backpack straps with moisture-wicking 3D Air Mesh back panel, load lifter straps and sternum strap with safety whistle
Exterior quick stash 3-1-1 pocket and front pocket provide organization
Lockable front pocket with organization includes zippered documents pocket, slip pockets, pen slots, and key fob with Porter Key bottle opener attachment
Front pocket contains padded sleeve sized to fit most 15" laptops with separate padded sleeve sized to fit most tablets (22 only)
#10 lockable, self-repairing zippers with finger friendly zipper pulls
Bottom "bathtub" construction resists water if the bag ends-up in a puddle
Built in durability: Bi-Tech and Bi-Tech Armor fabrics for extreme abrasion and weather-resistance
Safety reflective accents for dusk and nighttime visibility
Integrates with Pack-It System & Gear Organizers, suggestions included
Wheeled Bag Features:
Expandable interior construction doubles bag capacity which allows it to become a full-size wheeled bag
3-ply polycarbonate back shell shrouds the handle system and offers ultra-light durability
Built in durability
3-ply polycarbonate construction provides superior impact resistance, with Bi-Tech fabric for extreme abrasion and weather-resistance
Ultra rugged wheels with sturdy wheel housing, skid plate and bumper protection
Travel-tested recessed handle system
#10 lockable, self-repairing zippers with finger friendly pulls
Safety reflective accents for dusk and nighttime visibility
Integrates with Pack-It System & Gear Organizers, suggestions included
Image courtesy Eagle Creek