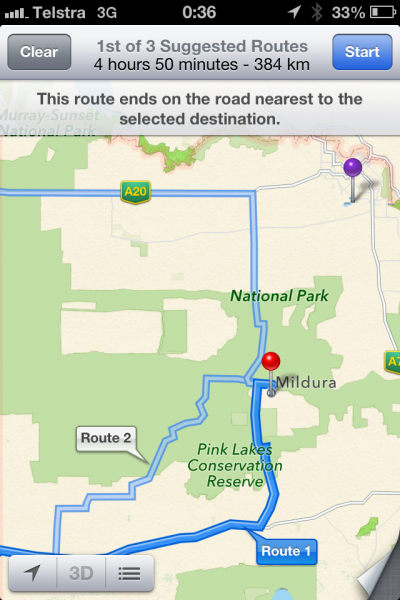 Australian police have issued a statement warning motorists to not rely on the Apple iOS 6 mapping system when traveling to the small city of Mildura since the already-flawed app can be "life-threatening."
Mildura police have already been called to assist numerous stranded motorists who found themselves in the Murray-Sunset National Park, about 70 km (43 miles) away from their destination, the inland, rural city of Mildura in northwestern Victoria, population 30,000.
The mapping system, for which Apple has already had to issue a rare apology for its shortcomings, takes people to the middle of the national park where no human lives. Police are "extremely concerned as there is no water supply within the Park and temperatures can reach as high as 46 degrees [Celsius], making this a potentially life threatening issue."
Some motorists that have been saved by police spent up to 24 hours without food or water in the park. They also had to walk long distances through "dangerous terrain" just to get cell phone reception. The park is attractive to bushwalkers, but the semi-arid climate means people have to bring in their own water or rely on park rangers' supply. Murray-Sunset National Park is known for its pink lakes which turn color in the summer because of a red pigment in the algae.
Mildura police have contacted Apple to request that they accurately map the location of the city. Until the problem is resolved, police are urging people to rely on other forms of mapping.
Image courtesy of Mildura Police