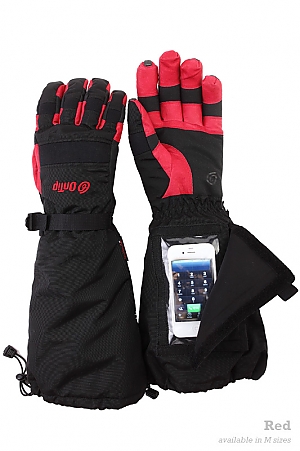 OnTip Gloves' new professional discount program is making it easier for ski, snowboard and outdoor industry pros to stay connected without leaving the comfort of their gloves.
OnTip, a leading manufacturer of performance touch-screen gloves, is offering a 15 to 30 percent professional discount to qualified pros on three of its high-tech, wintersports styles – OnGlove, AllSport and WinterSport gloves.
OnTip technology is the most accurate way to talk, text or type while actually wearing your gloves. Unlike gloves with silver tips or woven fabric patterns, OnTip provides a more raised surface for better aim, touch screen accuracy and precision. The patent-pending tips literally turn your finger into a stylus making it super easy to stay in touch and stay warm at the same time
Most importantly, OnTip gloves are designed with winter sports pros and athletes in mind. The gloves feature the critical performance features demanded by those whose livelihood is spent on or around the slopes- even in the worst conditions.
More information on the OnTip Pro Program and how to order can be found here: https://ontip.com/for-pros/.
Image courtesy OnTip Gloves