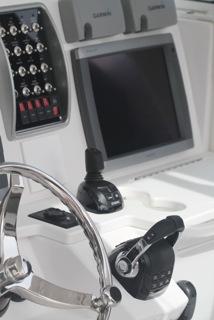 Yamaha will debut one of the most exciting new product lines the industry has to offer at the 2013 Miami International Boat Show. These new products represent the cutting edge of marine technology, while offering Yamaha's signature power and reliability. Below is an overview of the all-new "game changers" from Yamaha Marine Group.
Helm Master
Yamaha is pleased to introduce a fully integrated boat control system for Yamaha outboard-powered boats. Helm Master offers the latest technology for operating and maneuvering large, outboard-powered boats.
Available to Yamaha boat builders, Helm Master is programmed for maximum performance on specific boat models. It not only makes docking easier, Helm Master also incorporates additional boat control functions, such as automatic trim, speed and even automatic steering friction control.
The new Helm Master system integrates multiple components. They include, but are not limited to, exclusive Helm Master Digital Steering Helm, Electronic Key Switch (EKS), digital remote control, electronic control units, steering cylinders and pumps, joystick and Command Link Plus 6Y9 gauge.
Helm Master offers a revolutionary level of control, even in tight quarters.
At the touch of a button, the system integrates all boat control devices while eliminating the need for bow thrusters in most boats. In addition, a user-selectable high mode allows the engines to operate at higher rpm for increased control when docking.
Helm Master makes maneuvering less stressful by allowing the operator to concentrate on docking, without using multiple operating devices.
The system's joystick operation is based on the principle that the operator is the point around which all maneuvering occurs. Helm Master puts the operator in the best possible control vantage point for ease of use and maximum precision. This approach provides the user the most comfortable pilot-centric steering using the responsive joystick that translates movement into speed and directional commands.
In tight quarters, Helm Master allows movement of the boat with the joystick, not only fore and aft and port and starboard, but the joystick can be rotated for turning and positioning the boat.
In addition, the joystick movement is incremental in nature. If the operator moves the joystick lightly, then the boat movement response is paced slower and with minimal thrust. If the operator pushes with more pressure, the system translates the increased effort into greater thrust and directional movement.
F200
Yamaha's new four-cylinder four-stroke F200 is the lightest 200-hp four stroke on the market and can easily replace lower horsepower or larger V6 outboards, thereby increasing the performance of mid-sized boats. At the same time, when used in twin applications, the new F200 can dramatically reduce overall weight on the transom.
Yamaha's F200 is light weight, compact, quick, powerful and efficient – just the right combination for many kinds of boats, including center consoles, pontoons, sport boats, bay and flats boats, deep V aluminum, and fish and ski boats, just to name a few. At 487* pounds, the new F200 is up to 119 pounds lighter than Yamaha's V6 F200, and just 14 pounds heavier than Yamaha's two-stroke Z200 HPDI outboard. In fact, the F200 has the most favorable power-to-weight ratio of any four-stroke 200-hp outboard.
The outboard's four-cylinder, 2.8-liter, 16-valve, dual-overhead camshaft (DOHC) powerhead breathes easily and responds quickly, with a valve train design that's sophisticated yet proven by millions of hours of use.
Like its Yamaha V6 Offshore siblings, the four-cylinder F200 is equipped with Yamaha's Variable Camshaft Timing System (VCT), which helps deliver quick acceleration and a strong midrange punch.
V MAX SHO 150
Yamaha takes V MAX SHO high-performance capabilities to the 150-horsepower segment with the introduction of the new V MAX SHO 150, a four-stroke outboard with the kind of torque curve and hole shot that bass boaters have come to expect from a machine called "V MAX SHO."
Whether running a bass boat, flats boat or other performance hull, the V MAX SHO 150 truly delivers the performance that is signature to the Yamaha V MAX SHO, while providing all the benefits associated with four-stroke power, including clean, quiet operation and great fuel efficiency.
F50/F60
The popularity of pontoon boats and the resurgence of the midrange have brought the Yamaha F50/F60, T50/T60 and F60 Jet sharply into focus. That's why Yamaha decided to give them a new, more modern look.
Now, the F50/F60, high thrust T50/T60 and F60 Jet have the modern cowl shape of Yamaha's newest outboards. With that comes a new lower engine pan, which helps to improve drainage. In addition, both models get Yamaha's new graphic treatment. Over the last decade, Yamaha's F50/F60, high thrust T50/T60 and F60 Jet have helped to define what Yamaha four-stroke products stand for: reliable, clean, efficient outboard power. What made these outboards famous remains the same.
F9.9
The Yamaha F9.9 and T9.9 are among the smallest and lightest 9.9-horsepower four-stroke outboards available on the market today, and they just got better thanks to a thoughtful redesign that improves the convenience, control and appearance of this SOHC two-cylinder portable.
For greater convenience, the redesigned F9.9 and T9.9 now have an added resting pad to increase storage options and improved storage stability. On the F9.9 tiller handle models, the tiller handle has been redesigned to improve its folding characteristics, allowing the stored motor to take up less space. It also has an improved, built-in carry handle. In addition, the cowling of the F9.9/T9.9 has been redesigned to bring the outboard into the new, more modern, Yamaha family.
New Yamaha Props for 2013
Complementing the preview of its outboards and Helm Master, Yamaha Marine Group is also pleased to introduce the following new propellers:
22-inch and 23-inch V MAX SHO Propellers
Yamaha is proud to announce the impending arrival of two new performance propellers: the V MAX SHO 22-inch and 23-inch. These propellers will be the continuation of Yamaha's vaunted "T1" V MAX Ventless propeller series. Their single-inch pitch increments allow fine tuning of wide-open throttle rpm for peak performance on V MAX SHO-powered bass, bay, and flats boat applications, especially those using the new V MAX SHO 150.
Reliance SDSTM Propellers
Since its introduction in 2006, Yamaha's Reliance propeller has time-and-again proven itself as a complete performer, on a wide variety of applications and boating platforms. At the same time, Yamaha's patent-pending Shift Dampener System (SDSTM) has quickly become the sought-after standard in propellers for its quiet, smooth, "no clunk" shifting. Now, the two technologies have been combined into the Reliance SDS propeller, and the result is ideal for a great many boats.
Performance XL4TM and XL4TM-HP with SDSTM
With the power of Yamaha's 5.3L V8 F350 and the push of Yamaha's Performance XL4 and XL4-HP lines of four-bladed propellers, you've got thrust that has to be felt to be believed. Add Yamaha's Shift Dampener System to the mix and you've got quiet and smooth "no clunk" shifting, too. Manufactured to Yamaha's stringent standards of outstanding performance and durability, the XL4 propellers are available in 15-inch or 17-inch pitch, and the XL4-HP propellers are available in 22-inch or 24-inch pitch in both right- and left-hand rotation.
Image courtesy Yamaha