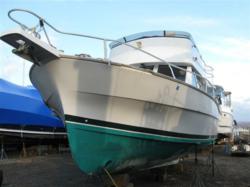 As part of the storm recovery process, Tru-Markets will be offering a large selection of storm damaged boats in a series of monthly online auctions at http://www.tru-markets.com beginning in December. "We are committed to helping the East Coast recuperate after the Hurricane Sandy catastrophe", explains Chad Farrell, Managing Partner at Tru-Markets. "We are working diligently to assist individuals, businesses, and insurance companies recover their property losses." According to the Boat Owner's Association of The United States, it is estimated that over 65,000 recreational boats were damaged or lost as a result of Hurricane Sandy. The group also estimated damage in the range of $650 million for recreational boats, making the storm the single-largest industry loss since the Association began keeping track in 1966.
Boat Rebuilders, Boatworks Companies, Boat Dealers and Brokers, and the General Public are invited to bid on the storm damaged boats. Interested buyers can view high-resolution photos, get detailed boat information, and register to bid online in the auctions at http://www.tru-markets.com. Anyone interested in the vessels can inspect the boats prior to the auction. Registration is free, buyers can place bids online, and receive convenient email alerts when new bids are added to the Tru-Markets marketplace.
The December 2012 auction features boats and yachts with claim values up to $170,000 including a Sea Ray Sundancer 290, a Luhrs Tournament 380 Fishing Boat, a Carver 32 Yacht, and a Mainship 390 Trawler.
Tru-Markets offers boat buyers the tools to find great deals and makes buying simple and easy. All bidding is done online so buyers can bid from a computer or a mobile device anywhere. The sealed bid auction system provides Real-Time feedback on bids and during the final minutes before each auction lot closes – the lots are automatically refreshed to give a second-by second countdown. Auction end times are extended if bids are placed in the last few minutes and is designed to give every buyer an equal opportunity to purchase regardless of their computer speed or internet connection. A Watchlist delivers a list of auction lots for tracking open, closed, won, and lost lots.
Tru-Markets works with trusted insurance companies to provide clean titles and pre-paid storage that make buying a boat in an online auction a hassle free experience. "If buyers do their homework on these salvage boats, they can get a great deal" says Farrell. Those interested in the December 18th auction can visit http://www.tru-markets.comfor more information on the boats and instructions to register for the events.
Image courtesy Tru-Markets