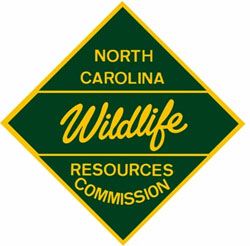 The N.C. Wildlife Resources Commission has completed work on the Mann's Harbor Boating Access Area, and it is now open to the public.
The site, off U.S. 64 in Dare County, was renovated to include three new boat ramps, two new floating docks, new bulkhead and shoreline docks and a gravel parking lot. The lot has 49 vehicle/trailer spaces and seven single car spaces. This marks the completion of the first phase of the project. The Commission is currently pursuing local partnerships to complete the final phase which will include additional commercial fishing facilities as well as a kayak and canoe launching area.
"This access area on the Croatan Sound is important to commercial fishermen and recreational boaters and anglers alike," said Erik Christofferson, chief of the Commission's Division of Engineering Services. "We are so pleased with our partnership with the Division of Marine Fisheries that allowed funding for this project to happen."
Acquisition of the property was made possible through a grant of more than $4 million provided by the Waterfront Access and Marine Industry Fund — a grant program administered by the Division of Marine Fisheries that aims to develop facilities to provide, improve or develop public and commercial waterfront access. The remaining funding for construction was provided from Sportfish Restoration Funds and motorboat registration receipts.
"Our goal with the Waterfront Access and Marine Industry Fund was to finance multi-purpose access sites that served both commercial and recreational fishermen, as well as the general public," said Louis Daniel, director of the Division of Marine Fisheries. "The Mann's Harbor project fits well into this objective and was one of the highest priority sites for funding."
Image courtesy N.C. Wildlife Resources Commission