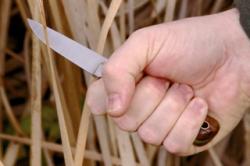 What better way to start off the new year than with something hand crafted right here in the good old US of A! Announcing, the Classic Stallion. Made with proven Sandvik stainless in the 13C26 variety. The cutting results you will get with this eighth inch thick steel will be a discovery in what a good quality stainless will provide.
This knife has a 6 5/8″ over all length with a 2 5/8″ cutting edge. The scales you will love, we challenge you to find a nicer set for the money. We source this stabilized Fiddleback maple from a gun stock maker in Pennsylvania who likes the good stuff. This is usually a $20-$30 upgrade on a knife this size, free on this special.
Another improvement is we have added black G10 liners to each knife, we guarantee you'll like the color offset with the maple that this offers. Sticking with our hand made process is a set of hand peened brass pins and hand set brass lined lanyard tube. This adds a great look to the knife and a level of safety when a lanyard is used with this collectible working blade.
A full flat grind was used on the Classic Stallion for its strength of blade and multi-use functionality. These are all hand ground in-house just like all of our fixed blades. These are custom hand made knives please allow at least 45 days for delivery.
For more information about the Classic Stallion please visit http://www.blindhorseknives.com/december12.htm or call 740-219-1141.
Images courtesy Blind Horse Knives