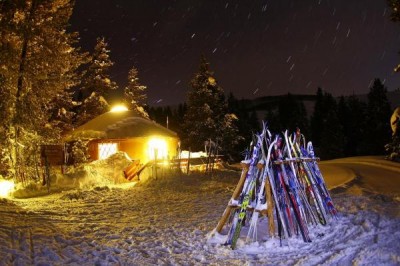 Country songwriters festival, photo workshop on skis, gallery walks, full moon tours & more
January in the Rockies means less-crowded slopes, amazing conditions, fantastic deals and a jam-packed calendar of music, art and outdoor events.  Plus, New Year's and Martin Luther King Jr. Day offer great chances to sneak in a long weekend getaway to the Gunnison-Crested Butte Valley.
January Vacation Deals
From Jan. 5 – Feb. 7, 2013, Old Town Inn in Crested Butte is offering 2 Nights Lodging/2 Days Skiing for $238.  The price is per person based on double occupancy and includes breakfast and afternoon cookies. Additional nights and/or lift tickets are available. For example, 4 Nights Lodging/3 Days Skiing for $399 also is being offered. Tax is not included. Call (888) 349-6184 and visit www.oldtowninn.net.
Elk Mountain Lodge in Crested Butte has 2 Nights Lodging/2 Days Skiing for $261 from Jan. 13 – 31, 2013.  This price is per person and based on double occupancy in a room with one queen bed or two twin beds.  Package price includes a full breakfast but not taxes, and additional nights and/or lift tickets are available.  Call (800) 374-6521 and visit www.elkmountainlodge.com.
At the newly remodeled Nordic Inn, located only steps from the ski area base in Mt. Crested Butte, stay any two days or more between Jan. 8 and 31 and get every third night free (for example, stay six nights for the price of four).  For details about the inn's January White Sale, call (800) 542-7669 and visit www.nordicinncb.com.
Take advantage of the Gunnison Getaway package for terrific ski vacation rates throughout the season. Prices are per adult, per night (including a lift ticket at Crested Butte Mountain Resort) at the 12 participating properties range starting at $46 at a hostel and $57 at a hotel from Jan. 5 – Feb. 7, 2013.  Price is based on double occupancy with two adult lift tickets and does not include taxes. Young adult and children's lift tickets can be purchased when booking the stay, and the cost for children and other additional occupants staying in the room may be extra.  Go to www.gunnisongetaway.com.
Songwriters Festival & Suzy Bogguss Concert
One of January's key events is the second annual Crested Butte Songwriters Festival, Jan. 18 – 19, featuring a diverse collection of the world's top songwriters including Dean Dillon, Chris Young, Marti Frederiksen, Even Stevens, Paul Overstreet, Colin Lake, Wendell Mobley, Bri Bagwell, Rodney Clawson, Nicolle Galyon, Tyler Hansen, Stephanie Lane Stevenson, Bill Dowell, Chris Coady and The Heard.
This live music bliss will introduce crowds to the faces, voices and stories behind hit songs.  On Jan. 18, performances will be held at Crested Butte hot spots: Maxwell's and Talk of the Town at 8 p.m. and The Eldo and Lobar at 10 p.m.  Entry costs $5 and benefits the T.J. Martell Foundation.  Benefit concerts on Jan. 19 will be hosted by Storme Warren at Crested Butte Center for the Arts at 6:00 and 8:30 p.m.  The cost is $50, with proceeds benefiting Gunnison Cattlemen's Days Tough Enough to Wear Pink initiative.
Tickets for the Jan. 19 concerts can be purchased at various locations, including Crested Butte Center for the Arts, (970) 349-7847 or www.crestedbuttearts.org.  Call (800) 229-3344 for group rates and lodging packages.  For a schedule, go to www.bmi.com/news and scroll down to Crested Butte Songwriters Festival.
Known best for her hits "Drive South" and "Someday Soon," Suzy Bogguss will take the stage at Crested Butte Center for the Arts on Jan. 27 to walk audience members down the dusty country roads of love, loss, pain and passion. The music begins at 7:30 p.m., with tickets available for $35. Call (970) 349-7044 or visit www.crestedbuttearts.org
Arts Galore
Art Studio of the Center of the Arts, located in downtown Crested Butte, is offering five classes and events in January. For information and registration, call (970) 349-7044 or visit www.crestedbuttearts.org.
Paint Your Own Pottery, Jan. 2
New Moon & Milky Way Photo Workshop (on Nordic skis), Jan. 11 – 12 (overnight)
ArtTalk with Local/Regional Artists (free), Jan. 18
Organic SPF Lip Balm Class, Jan. 19
Glittery Valentine Cards & Decorations Family Workshop, Jan. 26
Enjoy great art and conversation at First Fridays Art Walk & Music in Gunnison on Jan. 4 from 5 – 8 p.m.  For participating locations, call Gunnison Gallery at (970) 641-6111.  Later in the month, visit the wide array of art galleries and studios in downtown Crested Butte on Jan. 31 during ArtWalk Evening.  Go to www.awearts.org.
During Beads & Bubbly at the Gunnison Arts Center on Jan. 17, taste a variety of sparkling wine, champagne and inspired cocktails while creating fabulous beaded jewelry.  The workshop runs from 6 – 8 p.m. and costs $30.  Call (970) 641-4029 and visit www.gunnisonartscenter.org.
From Jan. 18 – 31, Crested Butte Center for the Arts will showcase local artist Dawn Cohen's spectacular plein air paintings of Crested Butte in all four seasons.  The opening reception will be held on Jan. 19 from 4 – 6 p.m.
For an "ART"rageous Day of the Arts, head to the Lodge at Mountaineer Square in Mt. Crested Butte on Jan. 26 for art demonstrations, a gallery show, visual arts workshops, dance performances and classes, a children's theatre performance and more. Arts Alliance of the East River Valley will host this celebration for the arts from 10 a.m. – 6 p.m.  Go to www.crestedbuttearts.org.
Nordic Skiing Happenings
The Crested Butte Nordic Center, www.cbnordic.org, not only grooms 55 kilometers of skiing trails and offers ice skating and snowshoeing, it pulls out all the stops for events.
A Learn to Skate Ski for Free clinic will be held at 1 p.m. on Jan. 3.
Snap on Nordic skis or snowshoes for an easy journey to a Full Moon Yurt Dinner on Jan. 26.  Enjoy a five-course gourmet meal prepared by local chef Josephine Kellett of Creative Catering at the Magic Meadows Yurt and served at 6:30 p.m.  The cost is $70, with children under age 12 priced at $35 (includes trail pass and equipment but not alcohol or gratuity).
Participate in Citizens' Races on Jan. 5 (15K skiathlon), Jan. 12 and Jan. 19 (both 15K or 30K classic or skate skiing). Participants must register at the Nordic Center by 9:30 a.m. on race day, with races starting at 10 a.m. The cost is $12, with kids under 12 only $2.
The Gunnison Nordic Club, www.gunnisonnordic.org, grooms approximately 45 kilometers of trails at Van Tuyl Ranch, Hartman Rocks Multi-Use Recreation Area, city parks, and Mill Creek located north of Gunnison and is offering three January events.
Guided tours to Governor's Cabin in Fossil Ridge are being offered on Jan. 11 and Jan. 30 beginning at 10 a.m.  To sign up for this 16 mile out-and-back trek, call (970) 641-1709 for Jan. 11 and (970) 275-3516 for Jan. 30.
The annual Kenny Mac Ski Fest on Jan. 26 will feature races and tours for all ages and abilities and an after-party at Hartman Rocks.
Fabulous Fun at Crested Butte Mountain Resort
CBMR offers world-class skiing and snowboarding along with many other activities such as tubing, a zip line tour, bungee trampolines, snowcat driving experiences, sleigh ride dinners, snowshoe tours and competitions. For information, call (970) 349-4554 or visit www.skicb.com.
Travel moonlit trails during CBMR's Moonlight Snowshoe Tour on Jan. 26.  Catch a ride from a snowcat to the top of Red Lady Express chairlift and traverse trails bathed in moonshine to the base area on this magical outing that runs from 7 – 9 p.m.
CBMR is a prime place to watch and take part in events such as the USASA Giant Slalom, Slalom & Slopestyle Competitions on Jan. 12 – 13, Junior Extreme Freeskiing & Snowboarding IFSA Regional Competition on Jan. 25 – 27 and Crested Butte Ski Mountaineering Race (part of the COSMIC series) on Jan. 26.
Visitor Information & Personalized Vacation Packages
To find out more about Gunnison-Crested Butte's calendar of events or to book other personalized vacation packages, call the Gunnison-Crested Butte Tourism Association's toll-free line, (800) 814-8893, or visit www.GunnisonCrestedButte.com/packages.  Find the Tourism Association on Facebook at www.facebook.com/gcbta or follow us on www.twitter.com/gcbta.
Image courtesy Gunnison-Crested Butte Tourism Association