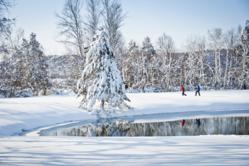 Livability.com has just named the Michigan resort community of Traverse City to its list of "America's 10 Hottest Cold Cities" – the nation's best winter vacation destinations.
The list highlights those communities that embrace their cool climates and offer residents and visitors a wealth of outdoor recreation, arts and culture, dining and entertainment options. Livability.com is a national website that highlights more than 500 of America's "best places to live and visit."
To narrow down the list, editors started by identifying those cities with an average temperature below freezing and an average annual snowfall more than 25 inches. Next, they looked for cities that offer an ample number of outdoor recreation options – cities near ski slopes or frozen lakes, or with large open areas perfect for snowshoeing or snowmobiling. Finally, editors factored in the number and type of indoor activities offered, such as shopping, dining, concerts and theater.
httpv://youtu.be/9rPr9yAQmzw
"Traverse City was chosen because, in addition to a cooler climate, the city offers all the amenities tourists look for – affordability; good, local and independent restaurants; a thriving arts scene; nightlife; shopping and plenty of outdoor recreation opportunities," said livability.com spokeswoman Teree Caruthers.
Other cities on the list include Anchorage, Alaska; Spokane, Wash.; Minneapolis, Reno, Nevada; Waukesha, Wis., Missoula, Mont.; Bangor, Maine; Concord, NH and Casper, Wyo.
Livability.com said Traverse City had "all the ingredients for a great winter vacation – a quaint downtown with beautiful views of Lake Michigan, microbreweries, restaurants, shops, performance venues and lots of snow." The article cited the community's popularity with skiers, snowmobilers and snowshoers—particularly the ski facilities at Shanty Creek Resorts — as well as its bustling craft brewing scene, and the indoor pampering available at the Great Wolf Lodge and the Grand Traverse Resort & Spa.
A small coastal resort area on the northwest coast of Michigan's Lower Peninsula, Traverse City has long been treasured by Michigan residents for its matchless scenery, colorful history, imaginative cuisine and laid-back friendliness, as well as the low humidity, warm sunshine and cool coastal breezes that make its summers so comfortable. Until recently it has remained relatively unknown outside the state, but word has been spreading quickly during the past few years.
This past year, National Geographic named Traverse City one of its Top 10 Summer Trips for 2012, while the Travel Channel ranked it among the Top Seven Beer Destinations in North America. Budget Travel called it one of the "Coolest Winter Places in America," and Money Magazine ranked it along the Top 25 Best Cities to Retire.
To learn more about winter attractions and events in the Traverse City area – and for a complete listing of lodging and dining options – contact the Traverse City Convention & Visitors Bureau at 1-800-TRAVERSE or on line at http://www.TraverseCity.com
Image courtesy Traverse City Conv. & Visitors Bureau