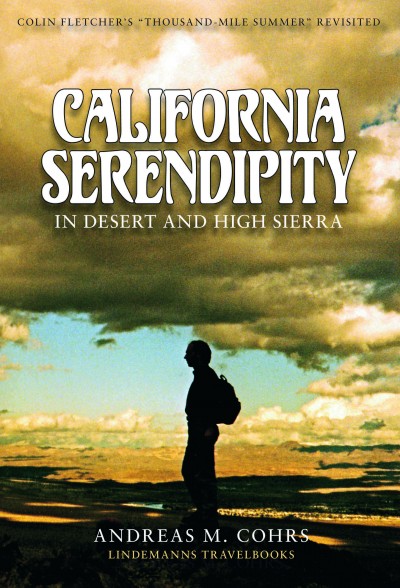 In the grand tradition of the travel memoir, Andreas M. Cohrs presents an awesome guide to the less visited regions of California as well as a glance into what makes up the Golden State and its glittering mentality.
Through a chain of serendipitous events, Cohrs gained access to the belongings of the late backpacking icon, Colin Fletcher. Based on the outdoor guru's original maps, notes, and photos, fifty years later he retraced The Walker's hitherto untraceable thousand-mile journey along the lengthy spine of California, across the state's enchanting deserts and over the snow-laden High Sierra.
With maps accompanying each chapter, drawn by Fletcher's cartographer David Lindroth, more than 100 photos, and with stories from the trail, Cohrs tells a compelling tale of one of the most varied and fascinating regions on our planet.
Yet, as the title reveals, California Serendipity is more than a hiking guide that lays Fletcher's original route at your feet for the first time. It takes the reader on a crash course through the state's early history and its unique nature into finding the only true answer to Fletcher's concern whether his 1958-trip could ever be repeated.
With his narrative travel writing, Cohrs conveys the intimate sensations of what it means to venture upon a four-month trek, unpretentious but up close and affective, and why serendipity will travel with you, rewarding you with the most unexpected encounters, when you take the right turn.
Image courtesy Andreas M. Cohrs