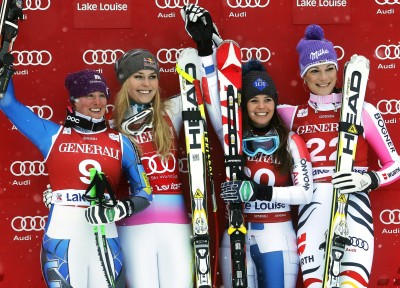 One of America's greatest skiers reinforced her title with a three-title sweep at the Women's World Cup circuit that took place at Lake Louise in Alberta, Canada over the weekend.
In the two ladies downhill events on November 30 and December 1, Vonn took the win by at least 1.5 seconds each time. On November 30, rival American racer Stacey Cook came in just 1.73 seconds behind Vonn. German Maria Hoefl-Riesch and Tina Weirather of Liechtenstein tied for third. On the final day of the downhill event, despite a mistake in the upper section of the race, Vonn took first ahead of Cook again, while Cook finished 0.52 seconds later. Swiss Marianna Kaufmann-Abderhalden finished third.
A news update on Vonn's website describes her final and third victory on the Canadian mountain.
At Sunday's World Cup Super-G Lindsey raced to her 14th World Cup victory at Lake Louise and her 100th World Cup podium place, leading another one-two finish for the US team at the Canadian resort. Lindsey finished in 1:22:82 to edge Julia Mancuso by 0.43 and Anna Fenninger (AUT) was third in 1:23:27. Again Lindsey has shown her excellence and with 56 victories she is now the most successful skier in the history behind Annemarie Moser-Pröll (62 victories). And Lindsey not only extended her win streak on the Canadian Rockies course to seven but she also became the first woman to sweep all three races twice at Lake Louise!
Last year, Vonn accomplished the same feat at Lake Louise, sweeping all three races. Her latest achievement marks 14 career wins at Lake Louise and her 56th World Cup victory. After reaching her 55th win following the second downhill event, Vonn tied retired Swiss racer Vreni Schneider for overall number of career victories, but she still has six more wins to go to tie Austria's Annemarie Moser-Pröll, who currently holds 62 victories.
"Those kinds of records are really hard for me to think about because they mean so much to me," Vonn told the Associated Press. "Annamarie is a legend. She's held that record for so many years and it's been thought to be untouchable.
The next race in the women's World Cup circuit is in St. Moritz, Switzerland and begins next Friday. Vonn had previously petitioned the International Ski Federation (FIS) to let her race in the men's events at the Lake Louise competition. She was ultimately denied participation in the men's races.
View the final results of all three races at Lake Louise 2012:
Image by Erich Spiess/Red Bull