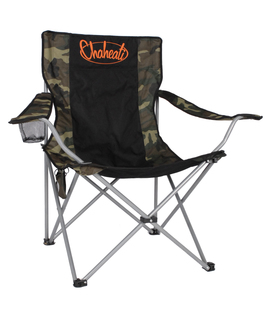 Chaheati was developed from an important observation made on a cold November night sitting around a bonfire. On this particular night everyone was warm and toasty on the front half of their bodies and a block of ice on the back half. While watching the comical frustrations from repeatedly sitting, standing, and turning to warm up, I thought, "There has to be an easier, more comfortable way for everyone to have a good time."  View a clip from a local news story:http://bit.ly/RucEpN
Chaheati looked to the extreme outdoor sportswear industry to develop its heating system, meaning that it's so lightweight, efficient, and powerful. Features of our patented heating technology: *Soft, pliable and flexible ultra-thin heating element (no coils) *Rechargeable lithium-ion battery-powered heating system *Safe low-voltage heating technology *Rapidly heats in only 10 to 20 seconds *Digital circuit protection The Chaheati All-Season Heated Chair is designed with comfort and durability in mind — The seat is over-sized and weight-tolerant to accommodate any body type. The rechargeable lithium-ion battery provides up to six hours of heat per charge and lasts for over 500 uses. An AC car adapter is also available. The Chaheati is also made from durable fabric rates at 600D Fire and Water-Resistant Denier so you don't have to worry about it shorting out if it's a little wet outside.
The Chaheati is the next level of camping and comfort equipment for outdoor use. Featuring a heating element that is guaranteed to keep you warm for up to six hours at 100-degrees or up to 145-degrees for 1.8 hours. Stay outdoors and do what you love with the patented Chaheati™ All-Season Heated Chair; Whether you're on the sidelines at a little league game, tailgating, camping, fishing, hunting, or just hanging out on the back deck, if you need some heat, have a seat with Chaheati. http://chaheati.com
Chaheati is a privately held company that specializes in outdoor equipment that keeps you warm when it's cold outside.
Connect with Chaheati: http://facebook.com/chaheati
Image courtesy Chaheati