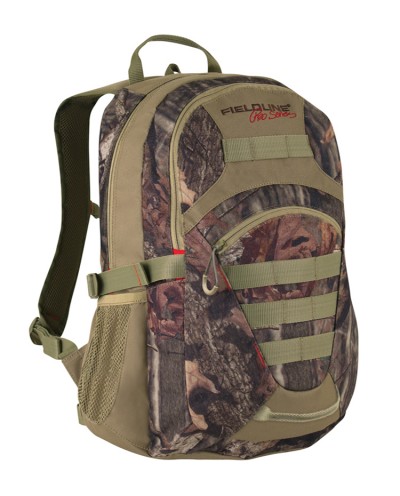 The rut is going strong and bucks are calling your name.  It's your call of duty, you can't just ignore it – time to gear up and go.  Let the Fieldline Treelin Day Pack carry all your important gear and more, allowing you to bring – and more importantly organize – everything you need for a full day in the woods.
When it comes to fit and functionality nothing has been compromised with this pack, allowing you to reach all of your important gear in a moment's notice.  It has an extra-large main compartment with a three-quarter zipper-opening ideal for clothing as well as a roomy secondary compartment with its own organizer for everything from snacks to spotting scopes to a bone saw.  A front pocket with a zipper closure keeps the likes of keys, tags or handheld radios accessible.  Multiple gear-lock attachment points stud the pack.   And, because the designers at Fieldline understand staying hydrated throughout the day has to be a priority, they designed a built-in two-liter hydration reservoir as well as left and right elastic mesh pouches which are perfect for storing water bottles.
Being functional in the field includes your gear's ability to be as silent and stealthy as possible. The Fieldline Treeline Day Pack features ultra quiet zipper pulls so you can remain unheard even when getting to the gear you need.  The pack, which measures 18.5 in. x 12.6 in. x 7.5 in, comes in Mossy Oak Infinity or Realtree All Purpose, both designed to help you blend in with your surroundings and stay under your prey's radar.
To help keep you moving after a long day in the field, the Fieldline Treeline Day Pack has a number of built-in features to combat fatigue and keep you as comfortable as possible.  A yoked shoulder strap system with an adjustable sternum slider provides a more comfortable fit while side compression straps work to balance packed gear.  The pack also has a deluxe padded back as well as a one-inch waist belt for added support.
To learn more about Fieldline's new Treeline Day Pack or any of the company's rugged hunting gear and accessories, contact Fieldline at 1919 Vineburn Avenue, Los Angeles, Calif. 90032, Telephone: (800) 438-3353.  Or visit online at www.fieldline.com.
Image courtesy Full-Throttle Communications