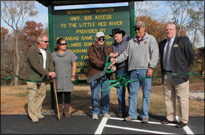 Earlier this month, the Arkansas Game and Fish Commission officially dedicated its newest access point on the Little Red River in White County. The two acre site is located near the Dewey community on Arkansas Highway 305 just to the north of Searcy. It will be known as the Monaghan-Womack Access after the two families that donated the land.
The location has both a boat ramp and parking lot. Cost of the project is approximately $160,000.
The Little Red River and the Dewey community have a long and storied history in the area. The Little Red was an important source of water and commerce to the area's earliest settlers as well as a Native American village located on the site. The community was originally located on the banks of the river, but flooding forced residents to move the community to its present location.
In 1963, the Little Red River changed forever with the construction of the Greers Ferry Dam. Because the water being released through the dam was much colder than what occurred naturally, the native warm water species could not sustain themselves. In 1964, rainbow trout were first introduced into the Little Red River to mitigate the loss of the native fish fauna.
The Little Red is home to a wild, reproducing population of brown trout following their introduction in the late 1970s. The Little Red River boasts one of the best trout fisheries in the nation and was home to the all-tackle world record brown trout of 40 pounds 4 ounces set in 1992 by Mr. Rip Collins.
Image courtesy Arkansas Game and Fish Commission