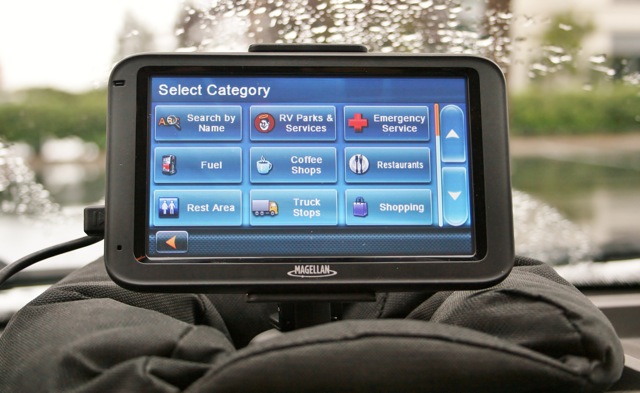 Magellan, a leader of innovative GPS devices for vehicles, fitness, outdoor and mobile navigation, today announced its first 5-inch RV GPS model, the Magellan RoadMate RV5365T-LMB GPS, to provide Magellan's leading safety, convenience and trip-planning features to drivers of RVs with smaller dashboard spaces. Magellan will display its new RoadMate RV5365T-LMB at the RVIA Show (Booth H) this week in Louisville, Kentucky.
The ideal travel companion for drivers of Class B and Class C RVs and those who tow other recreational vehicles such as fifth wheel trailers or boats, the Magellan RoadMate RV5365T-LMB helps when planning trips and promotes safety while on-the-road.
When preparing for their trips, the Magellan RoadMate RV5365T-LMB makes it easy for RV drivers to set up profile data about their vehicle's dimensions, vehicle type, hazmat materials, as well as navigational preference so they can customize the best routes.
The Good Sam Campground Directory and Good Sam discount locations, pre-loaded into the RoadMate RV5365T-LMB, provide valuable RV travel resources featuring comprehensive North America campground information and amenities to facilitate locating available facilities, RV services, pet-friendly campgrounds and parks, tent spaces, Wi-Fi and more.
During trips, the Magellan RoadMate RV5365T-LMB helps drivers navigate on its 5-inch high-definition touch screen that adjusts color and contrast for the most optimal night visibility. To help drivers keep their eyes on the road, the RoadMate RV5365T-LMB features Spoken Street Name guidance to announce street names and give turn-by-turn directions.  The integrated Bluetooth wireless technology enables RV drivers to safely talk hands-free when the GPS is paired with a compatible Bluetooth phone.
In addition to free lifetime map updates and free lifetime traffic alerts, the Magellan RoadMate RV5365T-LMB GPS navigator includes many of Magellan's latest high-end features to make navigation safer and easier.
'Junction View' displays a realistic image of the road and highway signs to help guide RV drivers to the correct lane that the vehicle needs to be in for safe merging and exits during their trip.
'Next Turn' visibility prepares drivers with valuable information about which lane to stay in or enter when approaching the next turning location.
'Landmark Guidance' gives RV drivers an easier way to navigate to their destinations by telling them to turn at familiar landmarks such as gas stations, stores or other large, easily-seen places instead of only street names that may be hard to locate and read.
The Magellan RoadMate RV5365T-LMB includes one year of free service to 'Traffic Camera Alerts,' powered by PhantomALERT, to warn drivers about upcoming red light and speed cameras on their route.
'OneTouch,' another Magellan-exclusive feature, enables drivers to bookmark and assign a button to their favorite destinations or searches for faster access.
Continuing to enhance the driver safety and peace-of-mind to see behind their RV, the Magellan RoadMate RV5365T-LMB is compatible with Magellan's award-winning Wireless Back-up Camera ($149.99 MSRP). When the vehicle is in reverse-mode, the RoadMate RV5365T-LMB will automatically switch from navigation mode to become a rear-view monitor that allows the driver to see what is behind the vehicle including children, pets and toys, or for assistance when parking into a tight parking space.
"Driving an RV or towing any size recreational vehicle can be very challenging on today's crowded roadways and Magellan is dedicated to giving RV drivers the best navigational tools for the safest journey," said Stig Pedersen, Associate Vice President of Product Management for Magellan. "We are pleased to offer the RV community the most innovative navigation features plus a choice of RoadMate RV GPS devices to best fit their needs."
Available in January through Magellan's consumer electronics and online partners including Camping World, Canadian Tire Corp. and Amazon.com, the Magellan RoadMate RV 5365T-LMB is $299.99 (MSRP).
Image courtesy Magellan