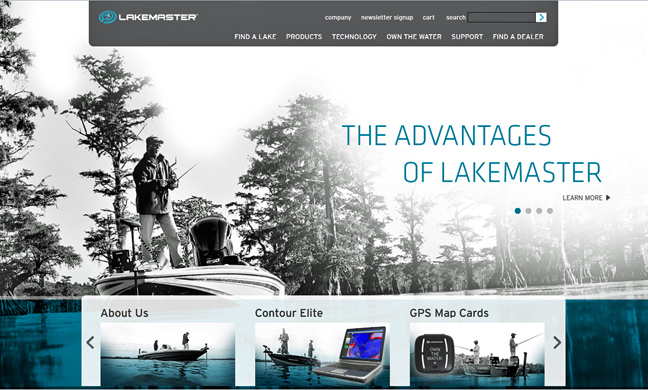 LakeMaster's redesigned site puts anglers in the know
LakeMaster recently revamped their website to give anglers a no-nonsense, easy-to-understand way to harness the awesome power of LakeMaster mapping products in conjunction with Humminbird sonar and GPS – before hitting the water – or from the water via smartphone, if need be.
Newly redesigned, LakeMaster's site is an interactive user-friendly space featuring a "Technology" section jam-packed with the detailed information on using the fishing industry's most innovative mapping and GPS features such as Depth Highlight, Water Level Offset, Shallow Water Highlight and more.
"We want LakeMaster users to get the very most out of our mapping products. Our goal is to make sure we answer every customer's questions and ensure they understand how to use the powerful feature set that comes with the purchase of a LakeMaster card or our new Contour Elite software," says LakeMaster Brand Manager Dale Logue.
The newly improved site also makes it easier for anglers to find the lake mapping information they need, from finding which SD card holds specific lakes, rivers and reservoirs, to figuring out if those off-the-grid bodies of water have been plotted yet. Most likely, LakeMaster's already done it, many in high-definition (HD). There's even a section for anglers to request future mapping of little-known waterways yet to be charted.
LakeMaster's videos, "Photo Gallery" and "FAQ" sections will answer questions anglers didn't even know they had, as well offer support for common concerns.  The new site also features additional information about their Contour Elite fishing software – for virtual mapping of your next fishing excursion on your home computer before the trip becomes reality.
Image courtesy Traditions Media/Lakemaster