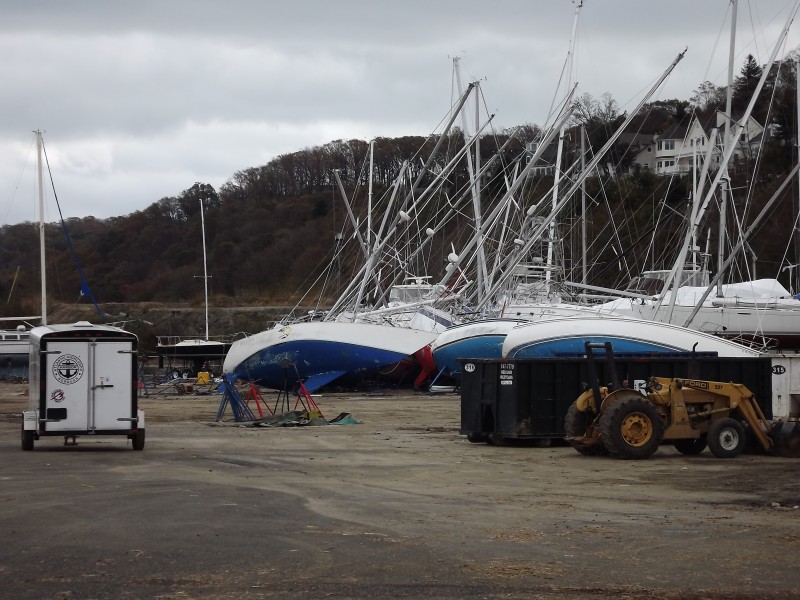 Hurricane Catastrophe Team Faces Their Biggest Challenge
Atlantic Highlands is a small Victorian town on the New Jersey shore overlooking lower New York Bay, where at night, the twinkling lights of the Manhattan skyline can be seen in the distance. It's also one of dozens of New Jersey shore towns that felt the brunt of Hurricane Sandy, which pushed a record 13-foot-plus high wall of storm surge through the community severely damaging the municipal marina, home to over 400 boats. Put another way, the water level rose about eight-feet above the average high-tide line. And it is here where the BoatUS Catastrophe Team – insurance surveyors, damage appraisal and salvage experts and transportation teams – has made a stand to do their part to help this town get back on its feet.
Just one day after the storm, Mike McCook, the salvage coordinator for the BoatUS Catastrophe Team and storm veteran with over 30 years of hurricane recovery experience, was on the debris-laden and boat-strewn waterfront. Every single one of the municipal facility's 425+ boats had to be salvaged or recovered. Many were BoatUS customers. Teaming up with Capt. Harold Smith of TowBoatUS Sandy Hook, the BoatUS team presented a salvage master plan for the facility to the City Council to recover all of the marina's boats, which was quickly approved just four days after landfall. McCook's team now reports that just three weeks after the storm, every single boat has been recovered and safely blocked ashore, and they are now moving into the damage appraisal process.
"While some boats are complete losses, many simply floated away and initially appear to have sustained only minor damage," said McCook. "We've got the best team in the field and our friends in the local boating community are really pulling out the stops to help us. Their support has been great."
"So many people's lives were affected," said BoatUS Assistant Vice President of Public Affairs Scott Croft. "We want our BoatUS customers focusing on their most important needs right now, such as their home and family – while we take away the hassle of getting their boat recovered and into the repair pipeline."
BoatUS reports there are still some pockets in the New Jersey barrier islands that have not been made available to insurance teams due to public safety concerns. "But we are checking with authorities daily and as soon as we are allowed in we'll move forward to address these boats." BoatUS estimates that 65,000 boats have been damaged or lost as a result of Hurricane Sandy – 25,000 in New Jersey alone. "We've also had boats to recover in protected wetlands, which require an extra level of care, but we understand the process and are working with the authorities to get access to these boats," added Croft.
"I'm proud to say that as of today, while we still have a significant clean-up effort at hand, every BoatUS Insurance program customer who has reported a claim to date has heard from us, whether by mail or phone, and while there are still boats that need to be salvaged, the process is going well," said Croft. "In every storm there are some property owners who are reluctant to give access to remove boats that have floated onto their land, but we are working with them for an amenable solution."
Image courtesy BoatUS