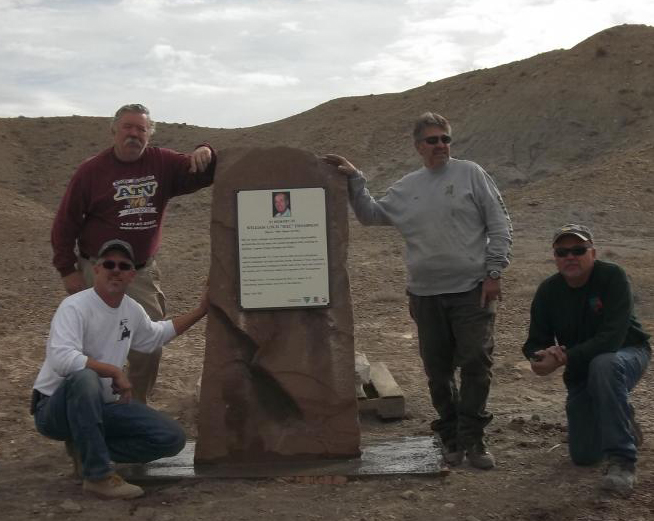 It was the type of day Bill Thompson would have enjoyed, a day riding ATVs with friends and some tough, hands-on work. Thompson, who passed away last March after battling cancer, was remembered fondly by five friends and colleagues who spent this past weekend near Green River, Utah riding their ATVs, pouring concrete, and erecting a memorial in Thompson's name.
Dale Bartholomew, Tyrel Knight, Glenn Olsen, Chris Reed and Bill Walke rode along the Orange Trail to a peaceful location near Crystal Geyser to honor and remember their friend.
Thompson served as off-highway vehicle coordinator and trails specialist for Utah State Parks and Recreation where he helped to build some of the finest trail systems in the country, including the Orange Trail where his memorial now stands.
"Like many of the projects Bill coordinated, creation of his memorial required the support of many," said Bartholomew, who led the project from start to finish.
Bartholomew thanked Dan Fitzgerald Excavating for donating the memorial stone, the Bureau of Land Management and School and Institutional Trust Lands Administration for granting permission for location of the monument, Utah State Parks and Recreation for equipment and staff, and especially Bill Thompson for his friendship and his work creating a legacy of ATV trails for our state.
Image courtesy Utah State Parks