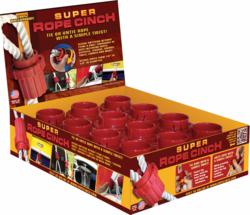 The Super Rope Cinch rope-tying device will soon have a partnership with Scoutlander.com beginning December 2012. The made in the USA Super Rope Cinch product is an innovative and revolutionary way in tying ropes even without untying or tying a knot. Using only a simple twist, Super Rope Cinch secures the ropes easily.
Super Rope Cinch can hold great amounts of horizontal and vertical pressures. Today, patented Super Rope Cinch is one of the most in demand and unique products all over the world. It allows anyone in securing everything in just a simple twist. More often, it is used for tying luggage, boats, snowboards, backpacks, PWC, wakeboards, tools, boat bumpers and many more. It is considered by many as a safe alternative in using bungee cord.
httpv://youtu.be/1D5d0e1TUko
Scoutlander provides websites for nearly 500,000 girl scouts and boy scouts. Through its partnership with Super Rope Cinch, the product will be offered to all Scoutlander accountholders as a fundraising tool as an alternative to selling popcorn. The relatively new Super Rope Cinch was recently accepted by Walmart stores and has been a recent favorite to boy scouts and girl scouts needing to raise money for scouting. Another great thing about Super Rope Cinch, is that in addition to tying and untying rope, it creates an adjustable length rope knot in just a matter of seconds.
Super Rope Cinch is manufactured in the United States of America by Just Right Products LLC, and it is owned by brothers, Tim and Drew Bourke. Tim Bourke is a full-time inventor, while Drew Bourke is host of Nashville music business audio program, Music City Social. Just Right Products LLC provides highest quality products at a reasonable price. It strives for excellence offering world class service to their customers and venfors. They use the highest quality materials in their product as well as state of the art manufacturing methods. Moreover, their products are well-checked by quality control experts giving long-lasting satisfaction to their customers.
Through its partnership with Scoutlander.com, scouts will be able to buy the Super Rope Cinch wholesale, and then sell it retail in order to raise money for scouting. Through this, many scouts all over America will be helped.
For more information about the Super Rope Cinch as well as Just Right Products LLC, call 615-461-0758 or visit their websites at http://SuperRopeCinch.com and http://JustRightProductsLLC.com.
Image courtesy Just Right Products