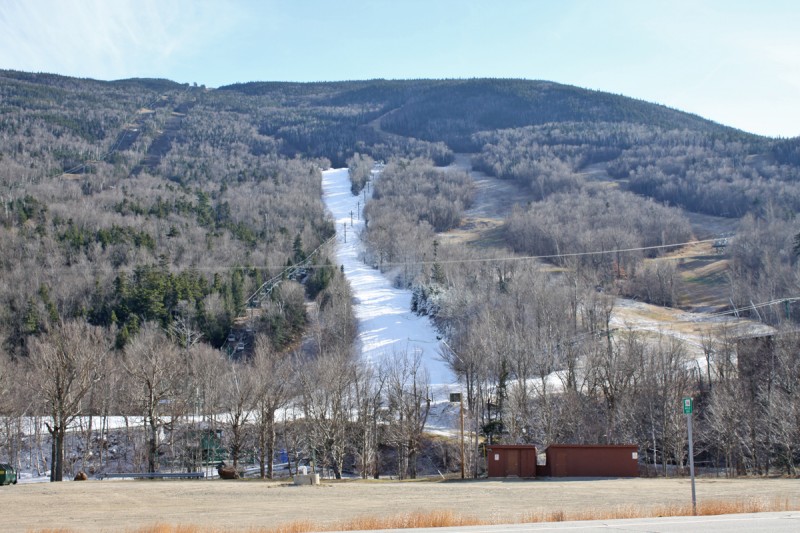 Wildcat Mountain will be opening this Thursday, November 22 with special hours on Thanksgiving Day 9 a.m. – 1 p.m. for $15! Lower Catapult (seen in attached photo taken last Friday – Wildcat Mountain/Laura Tuveson) continues to see productive snow making nightly and we look to keep it up at every opportunity. Once it's buried, we'll move to Alley Cat with skiing and riding available from the Bobcat lift to start the season. Wildcat will then continue its season and open Friday, November 23, 9 a.m. – 3:30 p.m., including the holiday weekend, and plans to remain open for daily operations, weather/conditions permitting. Visit the Wildcat Mountain snow report page for the most up-to-date information this season.
Tickets – Thanksgiving Day will be only $15 all ages for skiing/riding 9 a.m. – 1 p.m. (so skiers/riders and our staff can still enjoy Turkey time with family). Beginning Friday, November 23, tickets will be $29 all ages until further notice. Visit skiwildcat.com for more information and to purchase gift cards and to check out this season's wild deals, including the Vertical Value card, midweek specials, special rate dates, and more.
Event – Cans or Cash @ The Cat! We're hosting a "hike it" jib session at the base of Wildcat on Saturday, November 24 10 a.m. – 3 p.m. Bring us three canned goods or donate $3 going toward our local food pantry at St. Vincent de Paul in Berlin to receive a ticket for the rail session. This will be separate from the ticket for lift-accessed terrain and all participants will be hiking the jib set up. Check out www.skiwildcat.com/events for additional details.
Image courtesy Attitash Mountain Resort