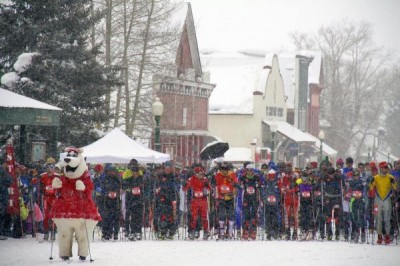 Announcing what's new for Alley Loop Nordic marathon & GORE-TEX Grand Traverse
The 27th annual Alley Loop and 16th annual GORE-TEX Grand Traverse are two distinct ski races that have helped put Crested Butte, Colo., on the map as a place that does everything with its own unique style.  Both have new happenings for 2013 and are spearheaded by Crested Butte Nordic Center. Registration begins on Dec. 1, with the Grand Traverse's 160 slots for teams of two expected to fill immediately.
Alley Loop, February 2
The Crested Butte Nordic Council's 27th annual Alley Loop, presented by Griggs Orthopedics, is known for its fun spirit and participation from both serious and not-so-serious costumed racers of all ages.  The Feb. 2 competition is distinguished by a unique course that starts on the town's main street, Elk Avenue, before meandering through snow-lined alleys, behind Victorian-era buildings, over footbridges, alongside residences and out to groomed trails before finishing back downtown.
Ranging from 1.5 and 3 kilometers for children and families to half and full marathons, races begin at 9:15 a.m. and start at intervals until 10:25 a.m.  Crowds line the streets and alleys to cheer on racers and can see competitors go by twice due to the new start/finish location on Elk Avenue and Second Street.  New Belgium Brewing's Taste of the Alley Beer Garden at Second and Elk also will offer a great spot to watch the action and socialize from noon to 4 p.m.
Growing in prestige and numbers over the past decade, Alley Loop was selected to join the American Ski Marathon Series (ASM Series), North America's longest-running and largest citizen's racing and touring series, starting in 2012.  With 14 races from Vermont to Alaska, the ASM Series includes such renowned events as the American Birkebeiner, Yellowstone Rendezvous and Tour of Anchorage.  Alley Loop is one of only four races in the western United States and the only Colorado event in the series.  Already an American Birkebeiner qualifier, the Alley Loop drew more than 450 skiers in 2012, with half of those from outside the Gunnison Valley.
For those looking to additional fun with their Alley Loop experience, the new "pub-ski" involves participants skiing from bar to bar on Elk Avenue between Second and Third Streets.  Participants will be given a small drink (3 ounces) at each bar and will qualify for a raffle to be held at the race awards party on Saturday evening.  Those partaking in both the pub-ski and the 5K Alley Loop will be in the running to receive a special prize given at the awards ceremony.
Registration opens Dec. 1 on Crested Butte Nordic Center's website at www.cbnordic.org. New this year, racers have an opportunity to purchase training plans and physical assessments from Griggs Orthopaedics when registering.
Elk Mountains Grand Traverse, March 28 – 30
One of the most sought-after and rugged backcountry ski races on the planet celebrates 16 years of memorable moments and amazing athletic feats on March 28 – 30.  The GORE-TEX® Grand Traverse, presented by Outdoor Research and Dynafit follows historic mail routes that connected the Colorado mining towns of Crested Butte and Aspen in the 1880s.
"The Grand Traverse is not a Nordic or downhill race, but instead tests skiers' overall skills and goes from town-to-town, covering 40 miles of rugged trails in the Elk Mountains. Every event dishes up new surprises for contestants and organizers," says Keith Bauer, director of the Crested Butte Nordic Center.
Kicking off at the stroke of midnight on March 29, the Grand Traverse is a one-of-a-kind test of endurance and smarts, requiring avalanche awareness, backcountry athleticism, winter camping knowledge and map reading skills all wrapped in one.  This unusual start time is scheduled so entrants will reach the high point of Star Pass at 12,303 feet before the warmth of the day increases the likelihood of avalanches.  Because of the remote route, each team of two is required to carry enough food and supplies to sustain themselves for 24 hours. The team's packs are checked for essential gear such as a two-person shelter, stove, fuel, shovel, probe, first-aid kit and equipment repair items.
The 40-mile course starts at 9,400 feet at the base of Crested Butte Mountain Resort (CBMR), where the KBUT Soul Train party will be taking place at Butte 66 and cheering spectators will send the racers off into the night.  After conquering two mountain passes, the teams finish at the base of Aspen Mountain ski area on March 30 and celebrate that evening with a post-race party at the Ute Mountaineer, an awards cocktail party at the Elks Lodge and a live concert in Aspen. Fans will be able to follow teams' progress on the tracking page at www.elkmountainstraverse.com.
"The Grand Traverse is a great testing ground for our product; the rigors our athletes and our gear face during this event provide us with great feedback on how we are doing.  With this feedback, we can continue to develop innovative and compelling products for the adventure skier," says Outdoor Research CEO Dan Nordstrom.
For the second year in a row, the gear check and expo will be the two days leading up to the race.
Sponsors GORE-TEX, Dynafit and Outdoor Research will have product demonstrations available at the base of CBMR, and racers can take part in a "skin with the pros" on March 28 from 4:30 to 5:30 p.m. The tour will follow the section of course that crosses CBMR terrain and give competitors a chance to do some final equipment tweaks with the help of experienced Grand Traverse racers.
Online registration opens on Dec. 1 at www.elkmountainstraverse.com and typically sells out immediately with 160 teams of two filling the slots.  To see if any openings become available after this time, watch the GORE-TEX Grand Traverse forum or Facebook page.
Crested Butte Nordic Center Facts
The Crested Butte Nordic Center is a full-service cross-country ski center providing lessons and complete rental packages for skate and classical skiing as well as guided backcountry tours, yurt dinners, ice skating and snowshoeing.  The Nordic Center maintains more than 55 kilometers of groomed trails that meander through and around Crested Butte.
Located in the heart of town at Second Street and Whiterock, the Nordic Center will be open for the season from Nov. 17, 2012 – April 7, 2013 and is connected to Crested Butte Mountain Resort and various stops in Crested Butte by the free Mountain Express bus.  For more information about the center and its winter 2012/2013 calendar of events, visit www.cbnordic.org.
Image courtesy Gunnison-Crested Butte Tourism Association