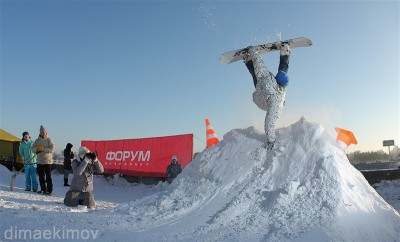 For the seventh year in a row, a hugely popular and growing event is coming to 23 countries around the world for a stellar World Snowboard Day. Fifty-six events are scheduled in those countries on December 30, 2012 including snowboard lessons, equipment tests, demonstrations, meet-ups with pro riders, concerts, environmental issues discussions and more, all for free.
The aim of the day is provide all those activities to people of all ages and skill sets. It does not matter what you're hometown is, what age or gender you are and whether you have ever ridden a snowboard or not. It's just meant to get as many people out as possible to enjoy the sport of snowboarding.
"What I love the most about World Snowboard Day is how it reunites thousands of people around the world for our shared passion," said Freeride World Champion rider Anne-Flore Marxer. "We all love snowboarding and this is a great opportunity to celebrate our sport on this very special day!"
Events will be hosted in Bosnia and Herzegovina, Brazil, Bulgaria, Canada, Croatia, Czech Republic, France, Georgia, Germany, Greece, Italy, Hungary, Latvia, Lithuania, Poland, Romania, Russia, Serbia, Slovakia, Switzerland, Ukraine, United Kingdom and the USA.
It's organized by EuroSIMA (European Boardsports Industry Manufacturers Association), the Outdoor Sports Valley (European outdoor sports industry association) and the WSF (World Snowboard Federation). In 2011, 37 countries participated in 167 events scheduled for the season.