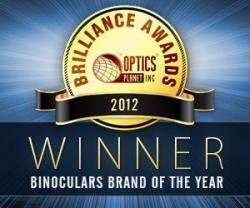 Optics Planet, one of the largest Internet optics retailers in the world, began presenting awards in 2009 for the gear that stands out from the more than 25,000 products in 300 categories that it stocks. This week, Steiner Optics was awarded the coveted 2012 Optics Planet Brilliance Award for Binocular Brand of the Year.
In addition to receiving the highest award for entire category of binoculars, Steiner also received a Brilliance Award for Best Hunting Binoculars for its the 8×42 Merlin Pro and Best Marine Binocular for its 7×30 Commander XP Marine Binocular with Compass.
The Optics Planet Brilliance Awards are highly sought-after industry awards. The recipients represent the best brands and products on the planet as recognized by consumer voters and a panel of Optics Planet experts that have decades of hunting, outdoors, tactical and law enforcement experience.
"This is truly an honor to be presented these prestigious awards," said Rob Siemers, general manager. "To be recognized by experts and customers alike for our product quality, innovative designs, dependability and value is what everyone at Steiner works so hard to achieve."
Images courtesy Hunter Outdoor Communications/Steiner