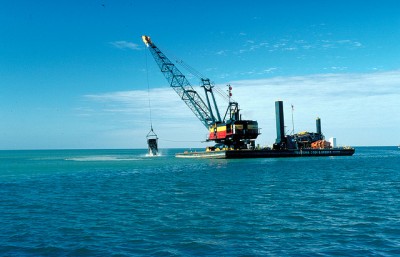 When the Michigan Waterways Commission needed a new revenue stream to help fund efforts to remedy low water levels in the Great Lakes by dredging many inland and Great Lakes harbors, it thought of one untapped source of recreational boaters: the non-motorized kind.
Gary Marowske, the chair of the Waterways Commission, suggested that kayakers and canoers should pay to register their vessel if they wish to enjoy the water just like motorized boats which all must be registered. "Currently, non-motorized boats like kayaks and canoes do not have to be registered, but in the words of Gov. [Rick] Snyder, 'You have to pay to play.' So my goal is to start registering these watercraft to have more of an income for the commission," Marowske told the Capital News Service.
The Waterways Commission is responsible for the acquisition, construction, and maintenance of recreational harbors, channels, docking and launching facilities. It also "provides advice on policies and manages waterway programs such as refuge harbors and boat launch maintenance," according to the Capital News Service. Chairman Marowske said despite the one million boat registrations and 2 percent gas tax that already funds the commission, the money goes quickly toward its plethora of initiatives for which kayakers and canoers do not have to currently pay into.
Marowske had no estimate of the number of non-motorized vessels when asked, but kayakers and canoers have already spoken out against his initiative to fund the commission and its initiatives through them.
In the Holland Sentinel, paddlers spoke out asking the state to not make them pay since these initiatives have little effect on the kayaking and canoeing experience. The statement reads:
There is no connection between state services and these low-impact recreational vessels — any registration would not be a user fee, but simply a new tax. …kayakers and canoeists can generally operate just fine without dredging. Unlike power boats, they don't need dedicated boat launches, don't pollute and seldom create law-enforcement issues. When it comes to public services, the cost of non-motorized vessels is almost zero.
Dredging is an underwater excavation method of gathering and removing bottom sediments of a waterway to dispose of at another location. In times when water levels are low, dredging often gets considered as a way to lower lake and river beds to allow for the waterways to be navigable by large vessels, especially cargo ships.
"With the low water levels this year, dredging is an issue that needs to be addressed," said Ron Olson, chief of the Department of Natural Resources Parks and Recreation Division. "The commission needs to continue to come up with some strategies on how to deal with the levels economically and recreationally."
At this time, there is no legislation pending, but Marowske intends to start the process soon.
Image from Thoth God of Knowledge (Thoth, God of Knowledge) on the flickr Creative Commons