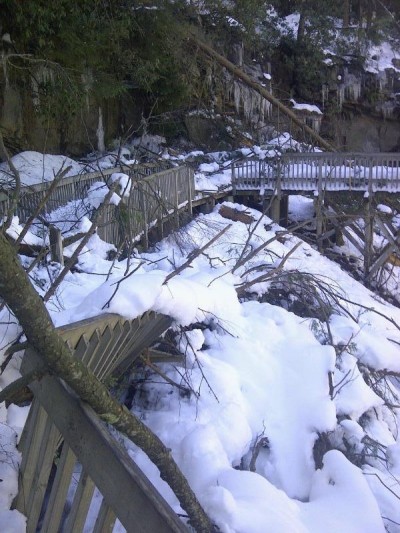 After 18 days without power due to extensive damage from Storm Sandy, Blackwater Falls State Park has re-opened. "The lodge, restaurant and cabins will re-open on Friday, Nov. 16," Park Superintendent Rob Gilligan said.
Gilligan extends his gratitude to park employees and the power company workers for their dedication and hard work to get the park electricity restored. "Now we have the longer term task of clearing trails, roads and other access areas from downed trees," he said. Sandy dumped more than 30 inches of snow; snow is still present at the park almost three weeks later.
The 214 steps of the wooden boardwalk and vista platforms providing access to view the falls will remain closed.  Several large trees destroyed sections and tree removal is required prior to the rebuilding of the boardwalk.
"It's a mess at the Falls and a difficult site to work in," Gilligan said. Damage is extensive. Due to the nature of the remaining cool temperatures and proximity to freezing water mist from the falls, a fully repaired boardwalk could be expected as late as next spring. Repair work depends on the upcoming winter weather conditions, according to Gilligan.
Rental of lodge rooms and cabins resumes Nov. 16. The restaurant that overlooks the Blackwater Falls gorge will be in operation. Activities at the park are resumed and are conducted at the park lodge.
For reservations and park information, call 304-259-5212 or visit www.blackwaterfalls.com.
Image courtesy West Virginia Division of Natural Resources