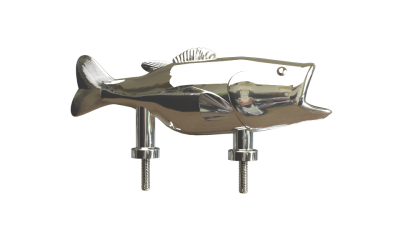 Cleva Cleats, the leader in uniquely designed marine cleats has unveiled a new line of cleats featuring designs geared toward the ultimate boating enthusiast. The newest design is of America's favorite sport fish, the largemouth bass.  The new design joins the existing lineup that includes a dolphin, great white shark, Florida manatee.
The company, formed in 2012 and based in Sarasota, FL has quickly emerged as the leader in providing an appealing way to show your love of marine life, while serving a useful purpose.  The cleats are gaining in popularity and the company has plans to continue to release new designs that appeal to everyone who loves the water.
"We are very excited with all the positive response we are getting from boaters and fishing enthusiast all over the world. It's a strong indication that our commitment to quality and unique designs is appreciated," says Kevin T. Wood.
Cleva Cleats, LLC has found a niche in the market by providing a beautifully designed product that can be used for numerous purposes. Currently, they are being used as replacement cleats for boats of all types including; bass boats, fishing boats, pleasure boats and yachts.  Additionally they have become popular for waterfront homeowners and businesses that want to showcase the beautifully designed product while allowing a place for boats to tie up to.
With a retail price starting at $49.95, they are ideal for anyone who loves the water and make great gifts for the holidays.  Cleva Cleats are manufactured in four sizes 6", 8", 10" and 12"; assuring that they will have a size for all needs.
The addition of the largemouth bass signals a new entry into the freshwater market and there are plans to create additional designs of fish and wildlife species to appeal to everyone. Look for Cleva Cleats in marine supply stores and online at clevacleats.com.
Cleva Cleats manufactures durable boat cleats in unique, marine life inspired designs. The cleats are made with 316 stainless steel and are engineered to outperform original equipment in both usage and aesthetics.  The cleats come with a lifetime warranty against defects in manufacturing.
For more information; please visit www.clevacleats.com