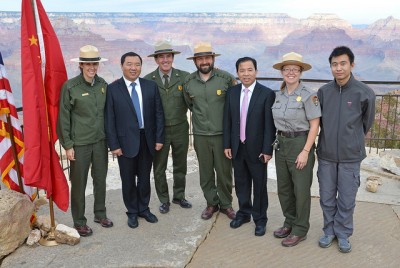 For the second time, two international parks renewed their sister parks agreement strengthening outdoors ties between two ideologically-divided countries. The United States and China initially signed a sister park agreement between Grand Canyon National Park and Yuntaishan World Geopark on November 1, 2007. This year, they renewed their five-year agreement at a ceremony held at the Grand Canyon.
The agreement opens up an intellectual exchange between the two countries and promotes further travel to the respective parks. According to a National Park Service statement, "the purpose of the sister park relationship is to promote international cooperation and understanding for the mutual benefit of both parks through personnel exchanges, technical assistance and training. The sister park relationship has helped Grand Canyon National Park to better serve the 40,000 Chinese visitors each year who visit Grand Canyon."
The Grand Canyon National Park, located in Arizona, and Yuntaishan World Geopark, located at Jiaozuo City in the Henan Province of east-central China, share similar landscapes which make them ideal for sisterhood. The parks have:
deep canyons and gorges formed by rivers cutting through layered rock,
significant cultural resources proving human presence in the area thousands of years ago,
and both are visited by more than four million people per year.
Han Yueping, director of Yuntaishan Geopar, Liu Xiaobo, the Magistrate of Xiuwu County (which houses Yuntaishan) and Wang Yanbing, Yuntaishan's head of interpretation and public relations traveled to Grand Canyon for a ceremony celebrating the renewed partnership with Dave Uberuaga, Grand Canyon superintendent.
The two parks hope to continue personnel exchanges throughout the next five years of the agreement. There are also plans to sponsor a Chinese Sister Parks conference and to continue educational exchanges in the areas of interpretation, education, search and rescue, and operational leadership.
Image from Michael Quinn/NPS via the flickr Creative Commons