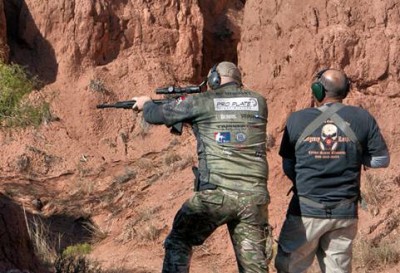 The Steiner Shooting Team's R.J. Dussart and Sky Leighton beat out 26 other two-man teams to win the championship title at Thunder Beast Team Challenge, conducted at the Blue Steel Ranch near to Logan, N.M., Oct. 26 through 28. Dussart and Leighton compiled a total score of 1397.36, which bested the second-place team by a staggering 70.28 points.
Hosted by Competition Dynamics and Thunder Beast Arms, this grueling tactical endurance and accuracy competition was a two-man team match that tested the competitors' skills in practical field shooting at unknown distances across an 11-stage course of fire, all while traversing rugged desert terrain and carrying whatever gear they need to complete each stage. Two of the stages were conducted under the cover of darkness.
Each team was comprised of a long-range marksman and a tactical carbine rifleman who worked in tandem to locate unknown targets, estimate range, determine wind and engage those targets from improvised shooting positions. The scoring for each stage was calculated from both accuracy achievement and adherence to strict time constraints.
Dussart used a 4x-16x50mm Steiner Military Scope with Gen-2 Mil-Dot Reticle atop his Accuracy International AW rifle in .260 Rem. with a Thunder Beast 30P-1 suppressor and a Burris FastFire II in his role as the designated long-range shooter, engaging in targets at distances from 150 to 800 yards with the help of Leighton as his spotter. Leighton, the primary carbine shooter on the Steiner Shooting Team, used a 3x-12×56 mm Steiner Military Scope on his DPMS Panther MK-12 in 5.56×45 mm NATO on targets at distances from a few feet out to 500 yards. In close-quarters scenarios, Dussart backed up Leighton with his Specialized Dynamics 5.56×45 AR rifle topped with a 1x-4x24mm Steiner Military Scope.
The Steiner Shooting Team won three of the 11 stages and tied for first on a fourth. What was likely the most significant piece of non-firing gear the two carried on their way to the challenge championship was the Steiner 10X50 Military LRF laser rangefinding binocular. The Porro-prism 10×50 Military LRF allowed the pair to quickly identify and range targets with a single push of a button, while being able to clearly interpret the wind indication of the mirage.
"The entire Steiner family is extremely proud of R.J. and Sky, and we offer them our most enthusiastic congratulations for a stellar performance," said Rob Siemers, Steiner general manager. "These two men train very hard for every match they enter. Considering the fact that the Thunder Beast Team Challenge took place at 4,000 ft. above sea level in a rugged Martian-like environment, this was undoubtedly one of the toughest, most punishing tactical shooting events on Earth. We're pleased that they put the world's highest performance tactical optics to task and came away with an amazing victory.
"Just like the Steiner product lines that they represent, R.J. and Sky proved themselves to be fast, repeatable and reliable," Siemers concluded.
Dussart and Leighton have already begun planning their return to the 2013 Thunder Beast Team Challenge to defend their championship title.
Image courtesy Steiner