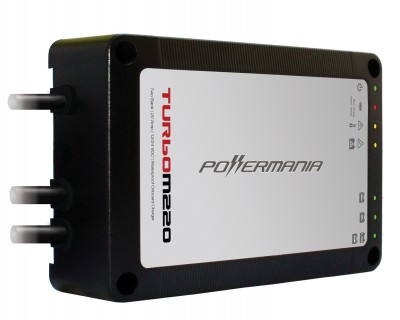 No boater wants to sacrifice time on the water to charge their battery. Waterproof, corrosion-resistant and shock-resistant, Powermania's Turbo M220 Battery Charger is ideal for recharging 12 VDC batteries for marine applications. Featuring three-stage smart charge and adaptive loading, the Turbo M220's charging process not only fully charges all connected batteries in full automation, but also completes charging cycles in the shortest time possible.
The adaptive loading feature dynamically adjusts the charger's output level on each output bank. More charging power is allocated to the battery that is lower in charge and less charging power is given to the battery that is closer to being fully charged. The Turbo M220 utilizes its full output capacity of 20 amps to help all connected batteries reach their fullest charge faster.
The Turbo M220 is also equipped with extensive safety features, including Ignition Protection, Over-Current Protection, Overheat Protection, Over-Voltage Protection, Reverse Polarity Protection and Short Circuit Protection. The Connection Check Warning alerts users if a battery is not being charged or to check for a broken fuse or loose cable connections, while the Battery Check Warning helps ensure the battery functions normally.
The Turbo M220 is prewired with two sets of DC output cables. Its compact size of 8-1/4″ L x 5-3/4″ W x 2-3/4″ H and ample charge power make it a good fit for small to medium size boats. It weighs only 9.2 lbs.
Powermania's Turbo M220 Battery Charger has a price of $199.
Image courtesy Martin Flory Group/Powermania