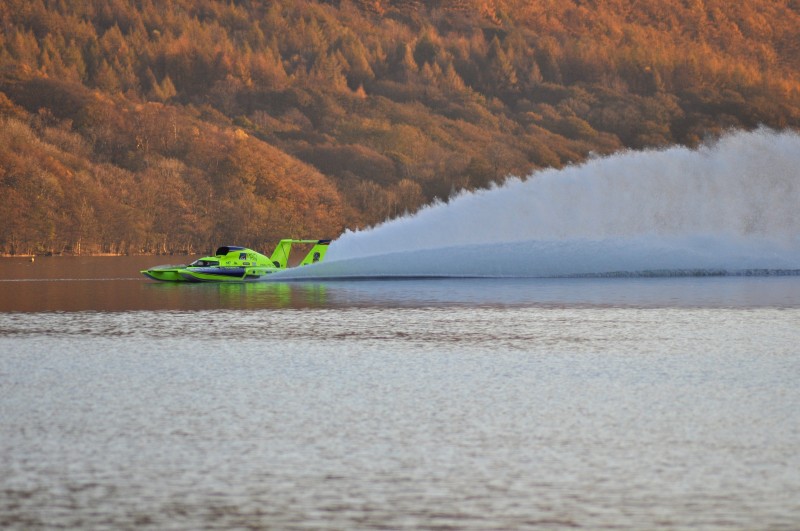 The Peters & May H1 Unlimited Hydroplane literally ROARED across Coniston Lake last Monday, reaching an average speed of 175.11mph, and setting 3 new records. The British weather prevented any further runs for the boat during the week but the boat was able to run a series of "safety laps" to give the crowd a taste of the H1 adrenaline experience.
Driven by JW Myers, who co-owns the boat with Scott and Shannon Raney, the Peters & May U-11 Unlimited Hydroplane now holds the World Record for the fasted speed achieved in class, the British Record for the fastest speed achieved in class and also the record for the fastest propeller driven boat ever to grace British waters.
Ben Jelf, (11), also of the Peters & May Team secured two further records, when he beat the existing GT15 World & British record with a speed of 44.33mph.
Coniston Water has a strong legacy in the powerboat world, and is best known for the Donald Campbell's fatal attempt at the world water speed record in January 1976, when his boat Bluebird K7 flipped and disintegrated at a speed in excess of 300mph.
Peters & May were in Coniston to provide logistics support and also to pay tribute to Mike Lovell, the Peters & May driver who sadly passed away as a result of injuries sustained while racing in the P1 Superstock Series in Weymouth in September. They were joined by Mike's mother and nephew, who took great comfort in being at the iconic event, knowing that Mike was very much looking forward to spending the week at the lake as part of the Peters & May team.
Dave Holley, Chief Executive of Peters & May attended the event, "The team achieved everything that we set out to do. As well as setting the record we were able to honour Mike and at the same time create further awareness for powerboat racing in both the UK & the USA. Our commitment to the sport remains as strong as ever and the future is bright."
The H1 Hydroplane is now on route to Doha for the Oryx Cup 2012, which is the last race of the 2012 Unlimited Hydroplane season and is run under the patronage of His Excellency Sheikh Hassan Bin Jabor Al-Thani, president of the Qatar Marine Sports Federation.
Image by Anthony Stuchbury