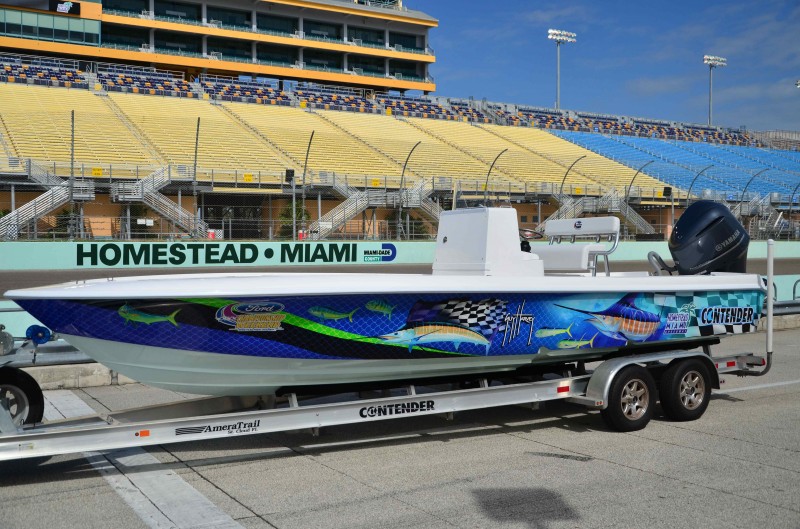 Homestead-Miami Speedway is again giving away a uniquely South Florida "trophy" to its NASCAR Sprint Cup Series EcoBoost 400 race winner. It's a Bay Boat, equipped with a 250-horsepower, 4-stoke Yamaha engine, built by Homestead-based Contender Boats.
New for 2012 is that marine wildlife artist and conservationist, Dr. Guy Harvey has designed a wrap for the boat that features checkered flags, sailfish and marlin. All 43 drivers in the Ford EcoBoost 400 field will have a chance to win the prize boat.
"Our relationship with Contender Boats started in 2011, and now includes another natural in Guy Harvey," said Homestead-Miami Speedway President Matthew Becherer. "It's fantastic to bring together these two iconic and uniquely South Florida entities that have collaborated to design and outfit this one-of-a-kind boat for our race winner.
In addition to the design for the boat wrap, Dr. Harvey and Homestead-Miami Speedway are teaming up for other fan elements:
Dr. Harvey has designed the cover of the official Ford Championship Weekend program, which will be on sale at the track during race weekend.
Dr. Harvey has also designed commemorative posters and t-shirts that will be for sale at Homestead-Miami Speedway, both during the race and beyond. Proceeds from the sales of the t-shirts will be donated to the Guy Harvey Ocean Foundation and Homestead-Miami Speedway's Driving for a Cause Foundation.
South Floridians and out-of-town guests in for the race will be able to enjoy NASCAR stock cars that include Guy Harvey Custom Wraps.
"We've long believed that our fans and NASCAR fans share a passion or the outdoors," said Dr. Harvey. "We know our message of marine conservation and sustainable fisheries will find a receptive audience within NASCAR's ranks."
Image courtesy Guy Harvey Ocean Foundation