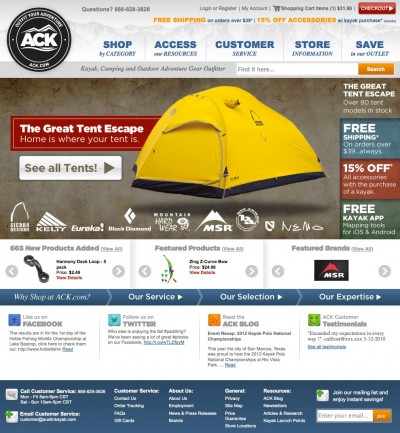 Austin Canoe and Kayak (ACK), a division of MSP Holdings, LLC announces the re-launch of AustinKayak.com — re-designed and re-engineered to deliver an enhanced outdoor adventure gear shopping experience.
Customer service was the driving force behind the re-launch of the website according to Peter Messana, CEO of MSP Holdings, "every single enhancement, whether on the front or back-end was examined, refined and delivered from a customer's perspective, we were very cognizant of the fact that we had to develop a site that was equal to or better than the existing site to continue to win praise and awards."
The re-launch of AustinKayak.com also signifies the start of a new era in ACK's evolving business model, encompassing a wider array of outdoor adventure gear categories such as camping, hiking and snow sports. Known to be one of the nations largest paddlesports retailers, ACK will always remain true to its core but with the re-launch of AustinKayak.com, the evolution has become more apparent.
"While the site's new look and feel emulates what ACK has become to date" said Peter, "it's what you don't see that is harnessing the power of where we are going to take this tomorrow," referring to a highly customizable infrastructure ready to accommodate new business goals.
New Technology and Design Enhancements:
Improved Navigation – Refined product category and menu structure and product searching and filtering capabilities
Google "Search as You Type (SAYT)" – Predictive search technology (currently only available to select retailers)
User Friendly Interface – Updated look and feel throughout and a cleaner more attractive product catalog and presentation
Back-end Stability & Speed – Built from the ground with key components of the website hosted in the "cloud" allowing for scalability and fail-over abilities while producing faster response times
Customizable – 100% engineered and designed internally without any 3rd party software packages, enabling a future-proof and highly customizable infrastructure
The website re-launch was part of a cohesive strategy involving ACK's internal development, merchandising and marketing teams. The site is currently live at www.AustinKayak.com.
Image courtesy Austin Canoe and Kayak