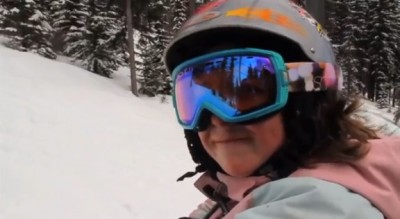 This season will be a busy one for numerous female alpine adventurers. Already, Lindsey Vonn has been in the news for a recent attempt at racing in the men's World Cup downhill ski race this November. Now, two films that are slated to come out in 2013 will showcase the fierce talent and personal stories of several female skiers meant to inspire other women to try the sport and to have roles models to look up to.
The film Pretty Faces is scheduled to premiere in the fall of 2013. It is meant to show viewers what women are capable of. "My biggest intention with the film is to include the voice of the early pioneers that we owe so much to for paving the way as well as including the voice of little girls who are growing up," Lynsey Dyer, pro skier, creator of Pretty Faces and co-founder of the non-profit She Jumps, told ESPN. "Little girls these days need more female role models — my whole intent is to show them that they exist."
The film will feature skiers Ingrid Backstrom, Rachael Burks, Elyse Saugstad, Grete Eliassen, Angel Collinson, Lexi Dupont, Rebecca Selig, Pip Hunt, Michelle Parker, Leah Evans, Jackie Paaso and more with a special thanks to Sarah Burke, who died in January of 2012 and was inducted into the Canadian Olympic Hall of Fame for her accomplishments. View of a video teaser below.
httpv://youtu.be/SdoFO9bzGBM
Hecuba, produced by Apres Visuals, will incorporate a conventional storyline, narration, and interviews with women athletes to discuss the experience of being a female skier, although that's not the only focus of the film. The film stars Crystal Wright, Jess McMillan, Kim Havell and Karissa Tuthill. Shot mostly in Wyoming's Teton Range, the film is slated to premiere at film festivals spring of 2013.
httpv://youtu.be/shgjdlkUnaQ
Image screenshot of video by LynseySheJumps on youtube