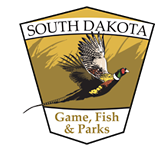 Gov. Dennis Daugaard has awarded about $1.5 million in Recreational Trails Program funding to several projects.
The Governor selected the projects based on input from a five-citizen Recreational Trails Program Advisory Council.
The federal assistance program provides up to 80 percent reimbursement for trail-related development and maintenance projects.
The following cities were awarded grants for trail construction and upgrades:
Aberdeen – Baird Park Recreational Trail, Phase II, $125,600
Belle Fourche – Riverwalk/Hay Creek to Pine Street, $51,130
Custer – Big Rock Lookout, Phase II, $80,000
Deadwood – George S. Mickelson Trailhead, $45,000
Dell Rapids – Ace Park Dells scenic hiking trail, $21,940
Lake County – Public access trail, $72,100
Murdo – City Park shared-use path, $177,848
Watertown – Big Sioux Recreational Trail reconstruction, $65,000
Winner – Phase I McDonald Park trail development, $62,799
Additional grants were awarded for trail improvement projects at Blood Run Nature Area, the George S. Mickelson Trail, LaFramboise Island Nature Area, Black Hills Snowmobile Trail System, and the Black Hills National Forest for Off-Highway Vehicle Trail System Implementation.
"These project sponsors have shown a strong commitment to improving their communities, our state and federal parks and our recreation areas," Gov. Daugaard said. "Their efforts will make South Dakota an even better place."
The Recreational Trails Program is funded by the Federal Highway Administration and administered by the South Dakota Department of Game, Fish and Parks. The funds come from the Federal Highway Trust Fund, and represent a portion of the motor-fuel excise taxes collected from non-highway recreational fuel use.
For more information on the program, contact Randy Kittle, grants coordinator, at 605-773-5490 or by e-mail: [email protected] .
Logo courtesy South Dakota Game, Fish and Parks