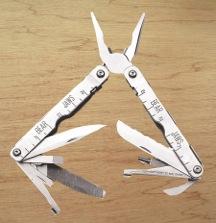 When your customers need to use a multi-tool, they need it right now, without the hassle of unfolding, searching and refolding. That's why dealers have found the convenient 155L Bear Jaws 18-function multi-tool by Bear & Son Cutlery is such a preferred choice. It's ready for use right out of the sheath.
"It has every essential tool users want and need," said Ken Griffey, president. "And they are ready for instant action, just what customers are after."
The Bear Jaws has 18 essential tools, including a serrated sheepsfoot knife blade and a drop-point blade; pliers and wire cutters; standard and metric scales; a 3-in-1 file; a Phillips screwdriver and two sizes of flat-blade screwdrivers; a bottle and can opener; lanyard ring.
The 4-inch rust-resistant stainless steel Bear Jaws is an ASME-spec tool, designed by professional technicians with ease of use a foremost goal. You have access to all components without first having to open the pliers. The extra-thick handles are comfortably rounded so you can perform the toughest tasks without hurting your hands.
Made in America, like all Bear & Son products, the Bear Jaws multi-tool has an MSRP of $70.99.
Image courtesy Bear & Son Cutlery