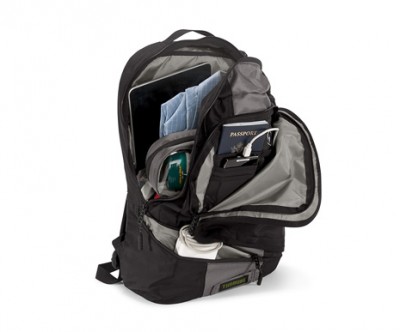 Outdoorsy people want to be on the move in the wild, but some want to be able to take their electronic gadgets with them for various purposes. Some have to work, others want to stay connected to their friends back home, some are addicted. No matter the reason, Timbuk2 doesn't discriminate, and so the company has engineered power-source backpacks available to the consumer.
Although they are not the first "battery" and power-bags on the market, these are the first Timbuk2, the San Francisco-based manufacturer of mostly messenger bags, has offered. Timbuk2 has partnered with Joey Energy to provide "the first series of purpose-built bags with a power supply to charge a variety of electronics while on the move," according to the company's press release.
The two new bags, the Power Commute and Power Q go on sale November 8, 2012 at REI and www.timbuk2.com. Additional retailers will supply the backpacks in February 2013.
Each pack contains the Joey TI power supply that charges virtually any technology via a USB cable. That includes smartphones, regular cell phones, iPads, Kindles, iPods, other MP3 players, GPS units, tablet computers and more without the need of multiple cords. Consumers charge the T1 at home before they depart for their business trip or vacation, which provides up to a few weeks' worth of charging your electronics on the go.
The Joey T1 power supply is contained within the backpack in a tough, water-resistant case and is not sold individually, but the bags that offer it come in two styles for two very different purposes. The Power Commute is a messenger bag ideal for transporting laptops and tablets on the bike or on the airplane, while the Power Q is a backpack geared toward hikers and other outdoor explorers. It also fits up to a 17″ MacBook Pro and has a ventilated back panel for some breathing room.
Both bags retail for $199 are are available in black, gunmetal or algae green colors. Visit www.timbuk2.com for more details and look below the video for additional feature information. In the video, George Farkas, Joey Energy co-founder and outdoor industry veteran speaks about the Joey T1 system's versatility and demonstrates how the power source works. Timbuk2 founder and CEO Mike Wallenfels also speaks to the company's expertise in bags.
httpv://youtu.be/QUs6pA–KD8
Design features of the Power Commute messenger bag:
Joey T1 charge unit fits in a dedicated pocket on the inside with weather proof ports to thread the charger cable to the iPad pocket or phone pocket
TSA-compliant quilted/tricot lined laptop compartment fits most 15″ laptops
Removable shoulder strap so you can carry as a briefcase or messenger
Separate dedicated pockets for your iPad, laptop power brick, etc.
Napoleon side-entry pockets with faux fur lined phone/iGadget pockets
Design features of the Power Q backpack:
Joey T1 Power Supply fits in a dedicated pocket on the inside that charges virtually any device that charges via USB cable – while in the bag
Swing Around tricot-lined side access compartment fits most 15″ laptops (and 17″ MacBook)
Ventilated back panel to provide breathing room
Custom-fit strap design for truer, more comfortable fit
Dedicated pocket for laptop power brick and accessories
Multiple grab handles and compartments
Refined weave 840 ballistic nylon