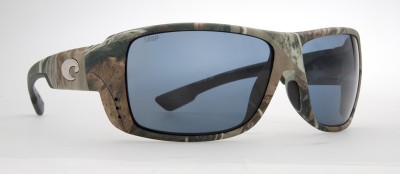 This holiday season, Costa Sunglasses has outdoorsmen covered with the introduction of its new Realtree AP camo line of sunglasses. Available in Costa's popular Fantail, Blackfin, Double Haul and Zane, these limited edition styles are the perfect gift for the avid angler or hunter.
Each of the four Costa styles featuring Realtree AP camo are part of Costa's core sunglass collection – meaning they offer superior wrap shape to protect against glare, proprietary anti-fog vents in the frame front, sturdy integral hinges and nearly indestructible co-injected nylon construction.
The styles are also available in Costa's patented 580 lens technology. Costa's 100 percent polarized 580 lenses block yellow light from entering the eye, creating razor sharp color enhancement and superior visual acuity. Lens colors include Costa's new specialty sunrise option, as well as gray, copper, amber, blue mirror, green mirror and silver mirror.
Winner of the American Sportfishing Association's Best Eyewear in 2012 at the International Convention of Allied Sportfishing Trades (ICAST), Costa's 580P sunrise lens is lightweight and impact resistant. More importantly, it allows for maximum light transmission and enhanced depth perception to cut glare and allow anglers and hunters to see more clearly in the early morning or late afternoon prime fishing hours, when outside light is low.
One of the most effective camo patterns available, Realtree AP features lifelike overlapping limbs and hazy background elements for an incredible 3D effect. The natural elements shown including mixed pine and hardwoods to match forests everywhere, and the open light, gray and neutral base colors melt into rocky and open terrain.
Costa's new sunglass styles featuring Realtree AP camo will be available in time for the 2012 holiday season at authorized Costa retail outlets and online at www http://www.costadelmar.com. Retail prices for these new styles will start at $169.
Image courtesy Mallory Communications/Costa Del Mar