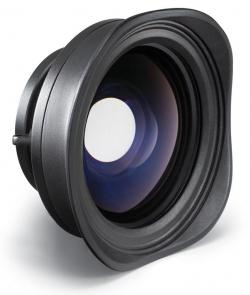 Since the initial announcement of its introduction in July, underwater photographers have eagerly awaited the arrival of SeaLife's widest angle and most advanced external lens to date. The wait is over. The SeaLife Fisheye Wide Angle Lens is now shipping to SeaLife dealers.
Increasing the field-of-view by an amazing 80 percent, the SeaLife Fisheye Wide Angle Lens allows underwater photographers to come very close to their underwater subjects and capture everything around them. The universal-fit of the lens allows it to quickly and easily snap onto any of SeaLife's DC-series cameras. This ultimate wide-angle lens features fully multi-coated and anti-reflective deposition-coated precision optics on all of its air-to-glass surfaces for maximum light transmission. Simply snap the Fisheye Wide Angle Lens onto your camera housing's external lens ring while purging any air bubbles, and you're ready to go deep and wide. Depth tested and guaranteed waterproof to 200 ft., the Fisheye Wide Angle Lens is equally effective for video as it is for photos.
The Fisheye Wide Angle Lens comes equipped with a Lens Dock that quickly and securely attaches to your flash-mount base, and there is a lanyard that attaches to the camera to ensure you don't lose the lens. When topside, you can store your lens in the included neoprene lens cover. With slightly negative buoyancy, the Fisheye Wide Angle Lens weighs 13.8 ounces above water, and it measures just 1.8X3.8X3.8 inches.
The lens is in stock and ready to ship and has an MSRP of $299.95, and it is backed by a one-year limited warranty.
For additional information on SeaLife, visit www.sealife-cameras.com, call 800-257-7742, or write to SeaLife, 97 Foster Road, Suite 5, Moorestown, NJ 08057. Visit us on Facebook at www.facebook.com/SeaLifeCameras.
Image courtesy SeaLife