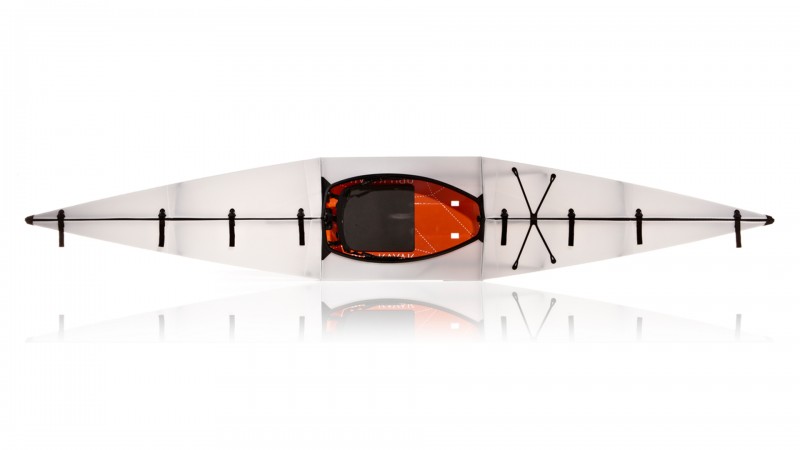 Oru Kayak Inc. launches its first, flagship product, an incredible lightweight folding kayak, on Kickstarter November 14th.
The Oru Kayak is an elegant, robust, 12' long boat—that quickly folds up into a compact, easily portable case. Its design utilizes principles of origami to derive incredible structural strength from simple, lightweight materials.
Oru Kayak Inc. is dedicated to unlocking the wonder of the great outdoors—especially for city dwellers. The Oru Kayak's on-the-water performance is suited to both novice and experienced kayakers, and it is the most portable, storable kayak on the market. Apartment dwellers can stash an Oru Kayak in a closet, or car trunk. Sailors can keep a couple on board to paddle to shore. Travelers can check the Oru Kayak onto a jet. And backpackers can hike an Oru Kayak to remote, untouched waters.
Founder Anton Willis, an architect and product designer, describes the design as based in both necessity, and unexpected inspiration. "When I moved into a small apartment in San Francisco, I had to put my kayak into storage. Reading an article on recent advances in origami got me thinking…What if you could make a real boat out of origami? What if you could take a boat with you everywhere you wanted to go?" Four years and countless paper models, 25+ prototypes, many rounds of user feedback, and hundreds of test rides later, the Oru Kayak is ready to launch.
The design and engineering of the patent-pending Oru Kayak are brilliantly simple—it is made of a single, seamless sheet of double-layered plastic. A proprietary pattern of folds transforms the flat sheet into a sleek, minimalist watercraft. Packed up, the Oru Kayak is the size of a large artist portfolio. Five minutes of assembly later, it is a strong, durable watercraft—ideal for exploring bays, lakes, or rivers.
The video below is a demonstration of how the kayak looks when folded, how it unfolds and assembles and what it looks like out on the water.
The word 'oru' means 'to fold' in Japanese. The Oru Kayak was a finalist in the 2010 ID Magazine Annual Design Awards.
Founder Anton Willis is Bay Area architect and designer. Previous projects have included award-winning products and spaces. He designed and built San Francisco's Curiosity Shoppe, worked at the Studio for Urban Projects, and consulted at IDEO. He won Metropolis magazine's Next Generation Prize in 2007 (for Lunar-Resonant Streetlights), founded design collective Civil Twilight, and was featured in the documentary 'Brilliant Simplicity.' He is a frequent speaker on design. Anton has a Masters of Architecture from UC Berkeley and a BA from Brown University.
Kickstarter.com is a funding platform for creative projects and products— everything from films to design and technology. Kickstarter is full of ambitious, innovative, and imaginative projects that are brought to life through the direct support of others. Since launching in 2009, over $350 million has been pledged by more than 2.5 million people, funding more than 30,000 creative projects.
The Oru Kayak will be available for pre-order for $800.00 on Kickstarter for 30 days from November 14-December 13. Pre-orders placed on Kickstarter will ship in Spring 2013.
Oru Kayak Specifications:
Kayak: 12' long (3.7 m), 25" wide (.64 m)
Weight: 25 pounds (11.3 kg)
Assembly time: 5 minutes
Case dimensions: 33" x 29" x 9" (84 cm x 74 cm x 23 cm)
Image courtesy of Oru Kayak