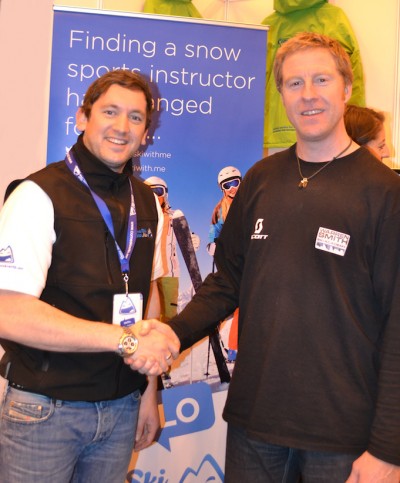 Warren Smith, one of the UK's leading ski instructors and founder of the Warren Smith Ski Academy has agreed to get on board and help promote the service to members of the skiing public.
Managing Director of Comeskiwith.me, Alex White said:
Having Warren on-board endorsing our website is fantastic and he will be a great ambassador for us. We are excited about working together and his enthusiasm for what Come Ski With Me can do for people looking to book ski lessons is great to hear.
Warren Smith – Warren Smith Ski Academy:
This service will really help recreational skiers to find their perfect instructor with an honest review. It's also going to improve the quality of ski and snowboarding instruction generally as instructors strive to get the best reviews from their clients.
One of the main reasons that Comeskiwith.me has already attracted so much attention is the unique functionality of the site and what it can do to help people find their perfect ski or snowboard instructor.
Alex commented:
So many people at the ski show have said how they are often disappointed by their ski lessons because they can't find the type of instructor they're looking for. Comeskiwith.me will direct you to the type of ski school or instructor that suits your needs, so if you are a complete beginner or someone that wants to jump in a helicopter and ski off-piste, our website can quickly find exactly what you want from a ski lesson. Afterwards anyone can log-in and write their own reviews about the lessons and what they think about their instructor.
Core Facts
Comeskiwith.me is a brand new online service to help find your perfect instructor.
Ski schools and instructors can enjoy premium membership benefits free of charge up until February 2013.
Thereafter a charge of £5.99 / month for instructors and £19.99 / month for ski schools is applicable for premium membership services.
There is no charge for members of the public to use the service.
Any recognised ski or snowboard instructor and ski school from around the world can join.
Members of the public can create profiles and review their instructor and ski school.
Members can engage with others to increase their exposure.
Image courtesy Ski Press