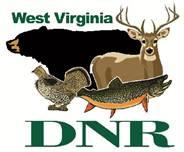 "Tropical Storm Sandy dropped several feet of snow on this Webster County vacation destination," said Jim Schotsch, a project engineer with West Virginia's state parks.  Holly River remains without power, water, phone or Internet communication as of Monday, Nov. 5.
Approximately 95 percent of the electric lines are on the ground and more than 15 power poles snapped by downed trees and limbs lay under the heavy snowfall.  Two transformers are smashed on the ground throughout the park. "The amount of trees on the ground is a phenomena. It's almost unbelievable unless you see it for yourself," Schotsch said.
Access to the park is open but the park facilities are not.  "Fortunately, there was limited damage to buildings caused by falling trees and branches," he said. DOH assisted with clearing a rock and mud slide that blocked the road to the cabin area. The slide occurred after a large tree on the slope above the road toppled at the roots.  Clearing the access to the camping area has not started.  A National Guard team, with a road grader and chain saws, is in the park and assisting clearing trees and snow from the park roads.
Contracting for power restoration will require assessment of damage and emergency purchase orders for repair work. Power lines at Holly River are owned by the park system.  Schotsch is onsite assessing damages, along with Park Superintendent Ken McClintic, Assistant Superintendent Josh Hinchman, and others.
Cabin guests staying at Holly River prior to the storm were evacuated by Nov. 5.  Cabin reservations for the remainder of this season, including Thanksgiving week, are canceled and guests are being contacted. All park employees have been accounted for. Until power is restored, the water reservoirs are depleted.
Holly River State Park is located in Webster County in Hacker Valley, W.Va.  It is the second[largest park in acreage in the West Virginia park system with a total of 8,101 acres. Nestled in a narrow valley, the park is surrounded by heavily forested mountains, some reaching heights of over 2,800 feet.
To learn more about Holly River State Park, visit www.hollyriver.com  For Holly River updates, email Jim Schotsch at [email protected]  or [email protected].
Image courtesy West Virginia DNR