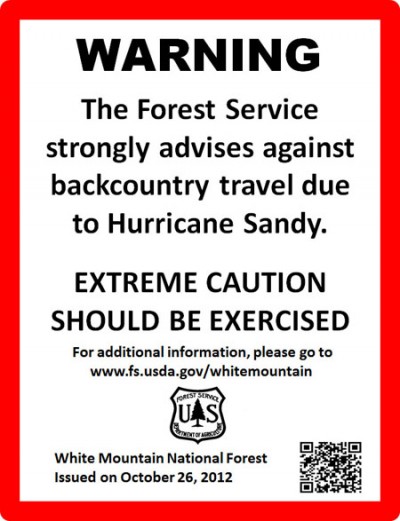 Twice in just over a year, the U.S. Forest Service issued backcountry travel restrictions in its most popular New England forest in advance of severe weather.
In August 2011 as Tropical Storm Irene made its way to the region, forest officials closed the 800,000-acre White Mountain National Forest in New Hampshire and western Maine.
Before Hurricane Sandy barreled into the Mid-Atlantic more than 300 miles to the south, officials issued a warning against people visiting the forest for recreational activities and closed several roads, campgrounds and recreation sites.
"We don't take closing public land lightly," said White Mountain National Forest spokeswoman Tiffany Benna. "We want to protect the public and the land. We want to do our part with the communities and make sure emergency resources are where they are best meant to be."
That means in the towns near and abutting the giant forest.
"We understand the potential of the community needing the emergency resources," she said. "This is a neighborly thing, a way to find common ground. Where do you want to be when a storm hits? The backcountry is not the best place to be."
An outdoor hub in the Northeastern U.S. with easy access from cities like Boston, Portland, Providence, Hartford, New York and Montreal, the White Mountain National Forest contains some 1,200 miles of hiking trails and more than 20 campgrounds.
Throughout the year, it is used by hikers, mountain bikers, hunters, rock climbers, campers, anglers, skiers, snowmobilers, snowboarders and others. More than 100 miles of the Appalachian Trail—the footpath between Maine and Georgia—runs through it. The forest holds six wilderness areas and contains a wealth of rugged and remote terrain that often makes search and rescue missions challenging.
Last summer Irene caused more than $10 million in damage to the trails and infrastructure. Some trails remain closed.
Irene came at a time of peak summer use while Sandy's arrival, though wet and windy, came when there were far less users in the forest.
Benna said they were aware hunters, day hikers and some "straggling campers" tend to recreate in the woods in late autumn when year-round campgrounds are open.
"Many of our campgrounds are in the trees," she said. "Being in a tent during a storm with high winds is not a safe alternative."
Both Irene and Sandy were highly anticipated events, says Benna. There was plenty of notice, and Forest officials had information from the weather service and emergency centers to make their decision.
"With information available days ahead of time, we have a good sense of tracking and gauging hurricanes and tropical storms," she said.
Even after the storm passed, the Forest advised against backcountry travel as employees continue to assess storm damage to trails, sites, bridges and roads.
"Until weather conditions improve, we strongly advise against backcountry travel, overnight camping and day hiking," the advisory said Oct. 31.
Forest supervisor Tom Wagner says employees are working hard to safely assess the damage.
"It's important for people to remember that while initial reports indicate minimal damage to the Forest front country infrastructure, there are still parts of the National Forest that haven't been assessed yet," he said in a press release.  "Plan ahead, and be aware of your surroundings and the possible hazards."
Curbing backcountry travel not only impacts forest users but also hiking clubs that run huts and shelters through special use permits. Both the Boston-based Appalachian Mountain Club (AMC) and northern New Hampshire Randolph Mountain Club posted links and information on their web sites pertaining to the forest restrictions.
The AMC closed the three huts it has open this time of year on Sunday with a scheduled re-opening of today, Nov. 1, while the RMC kept its facilities open but "strongly urge(d) hikers to follow the U.S. Forest Service's advisory" according to a Oct. 27 web site post.
During Irene, the AMC closed its huts too. They worked to reschedule reservations for guests but the hut crews remained.
"Our hut crews stayed on site and did see some thru-hikers (people hiking the entire Appalachian Trail) who were in the backcountry," said public affairs director Rob Burbank. "They took shelter during that time period and that was helpful."
Burbank says during times of severe weather the recreating public are not the only ones at risk.
"One of the big issues is not just the safety of the people out in the woods, but also the would-be rescuers," he said. "Should someone get in a jam when conditions are extreme, the rescuers are put in extra peril as well and the rescue may not be able to be performed."
With each storm, the Forest Service is able to streamline its internal process and "adjust the tools" its created, according to Benna.
"You never know with the weather," says Benna. "The weather will do what it wants to do."
First image from US Forest Service, second image taken from Wikimedia Commons