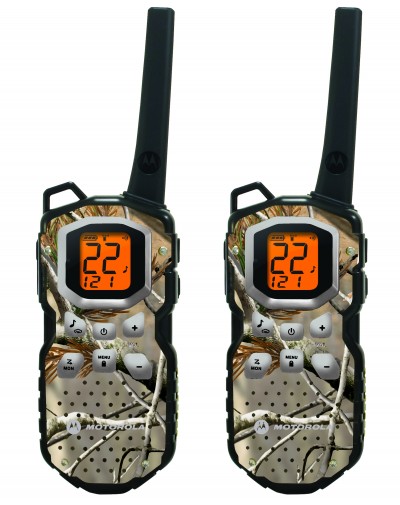 By no means a fair weather radio, Motorola's Talkabout MS355 high-performance, ultra durable waterproof radio is ideal for extreme outdoor conditions. Although this waterproof radio boasts a range of up to 35 miles and is packed with numerous features, it is competitively priced.
Features:
Waterproof — The Motorola MS355 two-way waterproof radio is a must have to ensure you have a reliable means of communication under harsh weather conditions. Don't worry about transmission failure when it makes contact with water. Its IP-67 standard withstands constant submersion of up to 1m for 30 minutes and repels the heaviest of rain droplets.
It Floats — If your MS355 radio happens to fall into the water, don't despair. Through meticulous engineering, the radio floats and is visible on the water's surface. Once recovered, use your MS355 radio to keep talking and listening.
Headset Connector – Use with your favorite Motorola audio accessories. Hands-free devices provide you with many advantages, including discreet communication, sound enhancement in noisy environments and the ability to multitask. The MS355 waterproof radio is equipped with a headset jack connector ready for use with any of your favorite Motorola audio accessories.
Earbud with bush-to-talk microphone (unrestricted communication) — Use your earbuds as a convenient clutter-free way to speak and listen to other two-way radio users while in the field. Designed to comfortably fit in your ear, the earbud connector plugs into your MS355 radio and snaps onto your lapel or shirt.
Ergonomic Design — Designed to maximize operator's productivity, its hourglass shape fits snugly into the palm of your hands reducing fatigue and discomfort typically experienced with the competition's brand. The non-slip ridges on its base housing eliminate annoying hand slips. Although built for function, the MS355 radio boasts a sleek contemporary look that holds its own with any trendsetter.
Repeater Function — Maximize your hunting experience by improving your radio transmission coverage when talking to family or group members who sometimes wander far beyond the line of sight. Thanks to the built-in repeater channels, the MS355 works well with a local repeater station to carry your signal further. Take advantage of this value-added feature by switching to GMRS channels 15R-22R, but don't forget you'll need a GMRS license and an accessible repeater station to take advantage of this unique feature.
NOAA Weather Channels — Want to keep in touch with changing weather conditions during your hunt? No need to stop the fun — weather alerts will provide you with warnings of incoming storms or dangerous conditions. And, by tuning in to one of 7 NOAA channels (National Oceanic and Atmospheric Administration) on your MS350, you will always know what to pack with continuous local and regional weather broadcasting.
MS355R includes:
2 radios
2 belt clips
2 PTT earbuds
1 dual drop-in charger
1 charging adaptor
2 NiMH rechargeable battery packs
1 Emergency preparedness checklist sheet
1 User Guide
1 Accessories brochure
Available in Realtree AP and yellow
Image courtesy Realtree