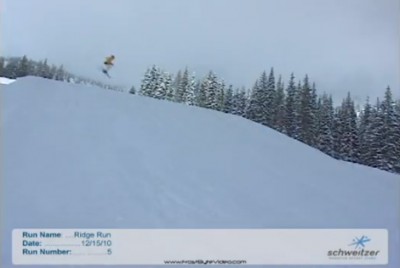 Just like cameras that capture you at the crux of your terrific excitement atop roller coasters, FrostByte Video produces cameras that aim to capture a skier or snowboarder in action on the slopes. It's a one-time solution for those who want to show off their skill at the terrain park, but don't have the equipment or a friend willing to videotape them. It's also for families who want to record memories on the slopes, for participants in a ski/snowboard school and for those newcomers who just want to improve their form by observing themselves from a different perspective.
Mountain High Resort in southern California has brought FrostByte Video to its slopes. The video system works by recording skiers/snowboarders from a stationary and pre-determined location along highlights of the run. Riders are tracked and recognized by a GPS armband. Upon completion of the day at the slopes, a linear video is automatically generated and available to take home.
View a video demonstration of the system below.
httpv://youtu.be/N5ckqPEZmAI
Original press release issued by Mountain High on October 25, 2012:
Mountain High is proud to announce the launch of its new action sports video service provided by FrostByte Video. Proprietary, patent-pending technology automatically captures guests on the mountain then edits their clips, adds music, and creates a personalized movie that can be shared with friends and family through social media, mobile devices, and email. Click here to see a sample video (above).
Says Rick Korfin, CEO of FrostByte Video, "We are very excited to partner with Mountain High, our first area to launch this revolutionary video production system. It's going to be a huge hit with the resort's customer base providing personalized movies without the editing and downloading required by helmet cams. We are confident that this partnership will truly be a win-win for both companies."
Fully Automated Video Solution
Each skier picks up a GPS-enabled armband before they hit the slopes. Strategically placed video cameras then capture clips of them on the runs and in the terrain park. At the end of their day, the user returns their armband, and the system automatically generates an individual, personalized movie. To retrieve their movie, customers simply follow the emailed link to the FrostByte Video website where they can view their video, download it, or share it with family and friends.
Says John McColly, Chief Marketing Officer for Mountain High, "Our guests love to capture video in order to share and relive their skiing experiences. If guests like their helmet cams, they're going to love this new third-person POV service. FrostByte Video provides our skiers with fantastic new videos that they simply can't shoot themselves. These videos also provide Mountain High with a completely new viral marketing tool."
Skiers Love It
Skiers benefit from a system that captures unique and compelling video from locations and perspectives that can't be obtained by helmet cams or handheld cameras. Plus it allows them to relive and share their memorable resort experiences through social networks. This automated system is very convenient since it does not take away from the daily enjoyment on the slopes, not to mention the time and effort it saves by not having to edit hours of raw footage.
Resorts Love It
Ski resorts are always looking for innovative ways to increase two critical metrics: skier visits and yield. FrostByte Video provides a completely new revenue stream for ski resorts. This service also drives viral marketing programs via compelling video content which increases the resort's social awareness. And the best part is FrostByte Video installs and operates the system at no cost to the ski resort.
Image screenshot of video by FrostByte Video on youtube