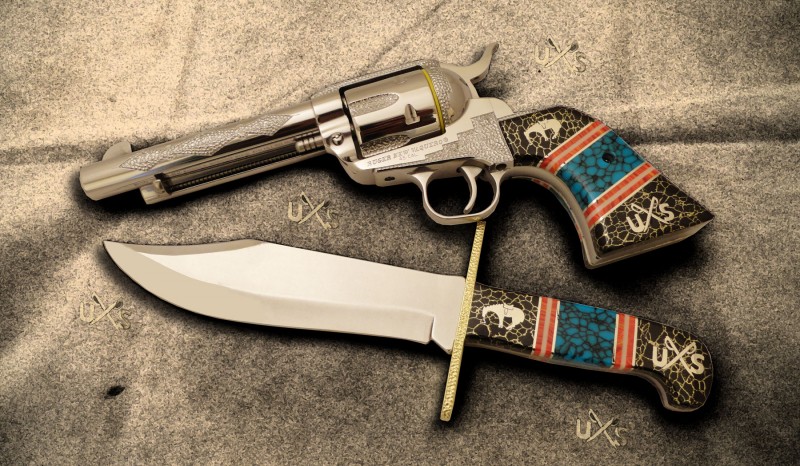 Commemorating the epic Battle of the Little Big Horn, the noted Native American artisan David Yellowhorse has created the beautiful US 7th Cavalry Custer's Last Stand Gun and Knife Set, a Limited Edition.
The knife, made by Bear & Son Cutlery, is a traditional American-made 12″ Bowie, with an 8-inch blade, forged from high carbon stainless steel, beveled, heat treated, tempered and then fitted with an engraved brass guard. Yellowhorse has added his signature and logo to add to the set's collectible value.
The handles are inlaid with turquoise, black jet with gold web, white bone, orange spiny and nickel silver.  After these channel inlays were applied, the sterling silver images were added. The handle has been polished to a high luster to enhance the natural beauty of the stone, silver and hand inlaid images.
The revolver is a 45 caliber stainless steel Ruger Vaquero, a modern version of the traditional single action pistol. A fully functional working firearm and expertly engineered pistol, it is built from highly polished stainless steel. It features the most modern internal safety and performance engineering while maintaining the rich traditional look of the gun that won the West.
It has a 5½-inch barrel and weighs 43 ounces. The frame of each pistol is stippled by hand and then polished to a mirror finish. David Yellowhorse has marked each gun with his logo and signature. The grip area is channel inlaid with sterling silver, black jet with gold web, turquoise, white bone and orange spiny.  The image of Custer's horse and the US 7th Cavalry designation in nickel silver are inlaid into the handle.
The famous battle took place on a hot Sunday morning, June 26, 1876, when General George Armstrong Custer led his command of 267 men into the Valley of the Little Big Horn River. There he was met by more than 2,500 hostile Indians including Sioux, Lakota and Cheyenne. His entire column of 12 officers, 8 Indian scouts, and 247 enlisted men, met their fate in less than 20 minutes.
Only 25 of these exclusive and beautiful gun and knife sets will be built, and they will be sequentially numbered from 01 to 25. Serial number allocation is done on a first-come, first-served basis. The set comes in a handsome hardwood display case. A certificate of authenticity is supplied with each set. Price: $6,000. To order, call (870) 236-0133.
Image courtesy Tom Ables/David Yellowhorse