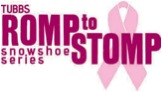 The Tubbs Romp to Stomp Out Breast Cancer Snowshoe Series invites snowshoers of all levels and ages to be a part of the largest snowshoe series in North America. Registration is now open for all nine event locations for the 2013 season. The decade-old series has raised more than $2.2 million for Susan G. Komen for the Cure and the Canadian Breast Cancer Foundation in support of breast cancer education and research.
Romp to Stomp enthusiast, Velma Hodge of New Jersey, has set a goal to participate in every Romp location in the US over the next couple of years. Hodge has already accomplished over half her goal. "My cancer journey helped me be better at setting and achieving goals. This is one that I am committed to. In some small way I can give back or help someone else who may be starting out on their cancer journey by raising some funds or showing them that if I can do it, then they can too," said Hodge.
Romp participants  can look forward to joining the festive, family-friendly fun on the groomed 3k or 5k snowshoe courses. Each event will feature goody bags for all participants, great giveaways, survivor tributes, and prizes for top racers and fundraisers. Free demo snowshoes will also be offered by Tubbs Snowshoes on a first-come, first-serve basis.
The Tubbs Romp to Stomp encourages the whole family to get involved with the Lil Romper program, offering a discounted registration fee for kids ages 6-12, free registration for Lil Bitty Rompers 0-5, and the Lil Romper Dash for Rompers 12-years-old and under.
Participants can choose from a 3k or 5k snowshoe walk or a 3k snowshoe race in the following locations:
2013 Dates/sites:
January 19: Mountain Creek Resort, NJ
January 26: Stratton Mountain Resort, VT
February 2: Stevens Pass Nordic Center, WA
February 9: Minnesota Landscape Arboretum, MN
February 9: Mt. Hood, OR
February 9: Scenic Caves, ON, Canada
February 23: Quinn's Junction, Park City, UT
March 2: Frisco Nordic Center, CO
March 2: Mt. Seymour, BC, Canada
Snowshoers who register early will save up to $15 off of registration fees with the special "Early Bird" rate. Those who want to get involved but can't make it to an event can register for "Snowed in for the Cause," a fun way to fundraise and feel like a part of the Romp.
For more information or to register for the Tubbs Romp to Stomp Out Breast Cancer Snowshoe Series, please visit www.tubbsromptostomp.com.
Logo courtesy Tubbs Snowshoes