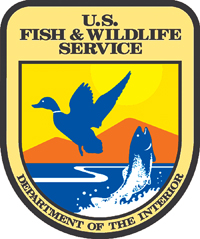 Michael Stroeh, a 24-year veteran of the U.S. Fish and Wildlife Service is the new project leader for the South Arkansas National Wildlife Refuge Complex, headquartered at Felsenthal National Wildlife Refuge in Crossett, Arkansas. He also will oversee the refuges and staffs of Overflow National Wildlife Refuge in Parkdale and Pond Creek National Wildlife Refuge in Lockesburg. Stroeh began his new duties on October 29, 2012.
"We're happy that Michael is returning to the Southeast Region. His experience is diverse and ranges across more than a dozen refuges in three regions – – the Southeast, the Northeast, and the Midwest," said David Viker, Southeastern Chief of the National Wildlife Refuge System.
As project leader of the South Arkansas National Wildlife Refuge Complex, Stroeh will be responsible for helping to restore and protect more than
108,000 acres of fish and wildlife habitat at the three South Arkansas refuges.
"I'm excited about the new challenges and opportunities I'll encounter at the South Arkansas National Wildlife Refuge Complex," Stroeh said.
Since 2008, Stroeh has served as the project leader for the Coastal Delaware Refuge Complex with includes Bombay and Prime Hook National Wildlife Refuges near Smyrna, Delaware. He oversaw daily operations for the 26,000-acre complex including moist soil management, cropland management, forest management, and public use management. He also guided the refuge complex through several high profile and controversial issues relating to climate change, sea level rise, farming litigation, and hunting.
Stroeh started his Service career at Tewaukon National Wildlife Refuge in Cayuga, North Dakota, as a biological technician where he performed several refuge and waterfowl production area management duties. From there, he moved to the North Louisiana Refuge Complex in Monroe, where he worked as a refuge operations specialist. Stroeh was the primary assistant for the 17,400-acre D'Arbonne and 22,000-acre Upper Ouachita National Wildlife Refuges. Seven years later, Stroeh moved to Tennessee to work at Chickasaw National Wildlife Refuge. Later, he was promoted to deputy complex manager of Reelfoot, Lake Isom, Chickasaw, and Lower Hatchie National Wildlife Refuges. He remained in Tennessee for nine years. While serving as the Deputy Complex Leader for the Tennessee refuges, Stroeh worked with numerous state, federal, and regional partners from various organizations, supervised more than 10 staff members, and managed the bottomland hardwood, uplands hardwood, and moist soil areas of the refuges.
Originally from Luverne, Minnesota, Stroeh's love of the outdoors led him to a career in natural resources. He holds a bachelor of science degree in Wildlife Management from the University of Wisconsin in Stevens Point. He enjoys hiking, kayaking, and collecting clocks and beer steins.
Established in 1970, the 65,000-acre Felsenthal National Wildlife Refuge is the world's largest green-tree reservoir consisting of the 15,000-acre Felsenthal Pool that can more than double to 36,000 acres during winter flooding. The refuge provides habitat for the red-cockaded woodpecker, federally listed as endangered, and several migratory waterfowl species.
More than 400,000 visitors a year enjoy hunting, fishing, photography, camping, and hiking the wildlife trails. The 13,973-acre-Overflow National Wildlife Refuge was established in 1980 to protect one of the remaining bottomland hardwood forests considered vital for maintaining mallard, wood duck, and other waterfowl populations in the Mississippi Flyway. The refuge consists of seasonally flooded bottomland hardwood forests, impoundments, and croplands. Founded in 1994, the 30,000-acre Pond Creek National Wildlife Refuge provides hardwood-dominated forested wetlands as outstanding habitat for tropical migratory songbirds. More than 20 different species of migratory songbirds nest at the refuge including Carolina chickadees, Carolina wrens, prothonotary warblers; northern cardinals, Swainson's warblers; summer tanagers; Kentucky warblers; and white-throated sparrows.
Logo courtesy U.S Fish and Wildlife Service